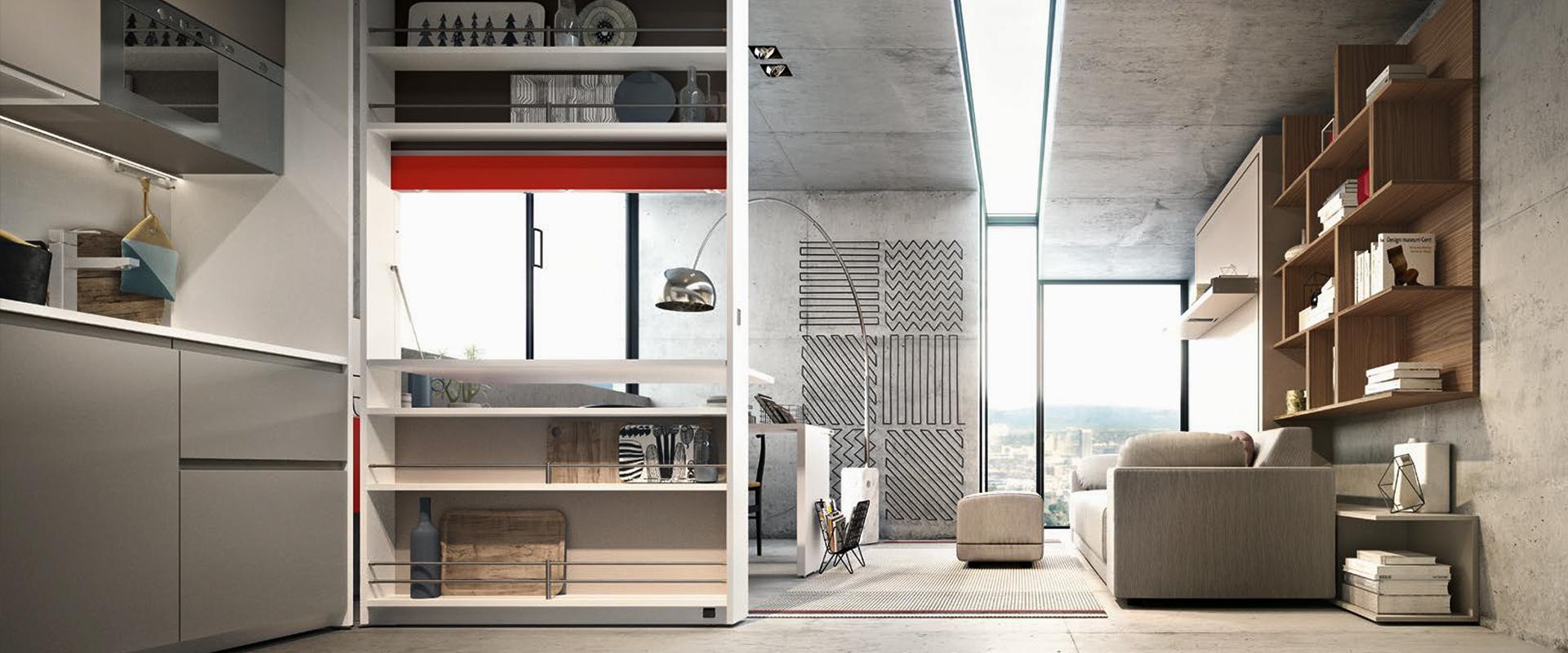 Solutions - 28 September 2021
Furnishing a 30 sqm studio: space-saving ideas and solutions
There are multiple reasons behind choosing to live in a 30 sqm studio and, often, they are not related to financial aspects.
An increasing number of people opts for this solution driven by the desire of an alternative lifestyle, or by ethical, work or family reasons, as in the case of one-parent families, young couples or single individuals. Choosing the furniture for a 30 sqm studio can be challenging given the ambitious goal: finding the right solutions suited to your own lifestyle, without sacrificing functionality and comfort.
How to furnish a studio: main challenges
Over the past few years we have been witnessing the rise of a new housing model in which the ability to maximize the functionality of a space through a smart and creative approach is more important than its size.
Micro living, cohousing, tiny houses and social housing are all terms identifying this trend that has opened up new horizons in the world of design and furniture.
Living in a small environment means rationalizing and designing the spaces without leaving anything to chance, and implies a deep and thoughtful analysis on the optimization of the available space. Such considerations have clearly been amplified by the recent lockdown period. After all, it was predictable: being forced to live full-time in a home leads to appreciate its qualities as much as to identify and understand its limits.
Thus, we've felt a strong desire to transform our own houses into a combination of smart and flexible environments. This desire has to adapt to the new needs of those who have lived and currently live in small apartments, such as working remotely, exercising at home, staying at home for a much longer time and for many additional activities that used to be carried out outside.
In particular, it has become even more important to:
exploit every available centimeter,
choose closed spaces or design an open space,
expand space perception,
combine different activities within the same environment,
fully exploit the natural light,
create a balanced environment despite the reduced dimensions,
last, but not least: find space-saving solutions.
These issues can be easily solved by designing ad hoc solutions that allow to increase and multiply the available space. At the top of the list is the transforming and multifunctional furniture that can adapt to the different daily needs in a convenient, easy and safe way. Let's find out how.
Furnishing a 30 sqm studio: space-saving ideas and solutions
The most common choice when designing a 30 sqm studio is to create an open space, which is not only a trendy solution, but also a concrete answer to the real needs associated to the furnishing of a studio. When using walls and partitions to limit an area of reduced dimensions, the available space might easily become smaller, darker and unsuited for conviviality.
However, a simple open space is not enough. It's also important to take into consideration the choice of colors in order to create the right harmony between the different functional areas. We recommend both neutral and light shades, which reflect light and create a bigger perceived space, to be counterbalanced by a bolder color to add character to the environment.
More than anything else, it should be clear that a key role in designing a small apartment is played by the furniture, which should fulfill all the functions that make a home efficient and comfortable.
Basically, you should aim at creating a transforming studio that, thanks to save-spacing solutions, can keep changing while remaining itself, being unique in its versatility: an environment able to turn its small dimensions into an advantage.
The ideal approach is to design a space that exploits and enhances the longitudinal and vertical dimensions of the environment by arranging the furniture along the longer walls. There are multiple advantages:
more space in the middle to move freely,
external light sources are not obstructed, making the space even bigger,
the versatility of the foldaway bed allows for a seamless transition between the sleeping and living areas.
Is this an impossible mission? Not at all, and our Space 10 proves it.
Our project to organize a 30 sqm studio
Here, for example, our Space 10 performs four different services in about 30 sqm: kitchen, dining room, living and sleeping areas can coexist thanks to Clei's transforming systems, elegant and modern furniture able to fulfill different functions.
The heart of the project is Kitchen Box, the compact and multifunctional kitchen. Its fully equipped revolving door, besides temporarily separating the spaces, extends the available working surface with an integrated flap table. In less than 4 sqm, it creates all the necessary space to accommodate everything needed in the kitchen (even the dishwasher compartment!).

Space 10: Kitchen Box
And if you believe that opting for a 30 sqm house means saying goodbye to dinner parties, Girò will prove that you're wrong. It is a functional console that is only 35cm deep when closed and can turn into a comfortable 4 seats dining table when needed.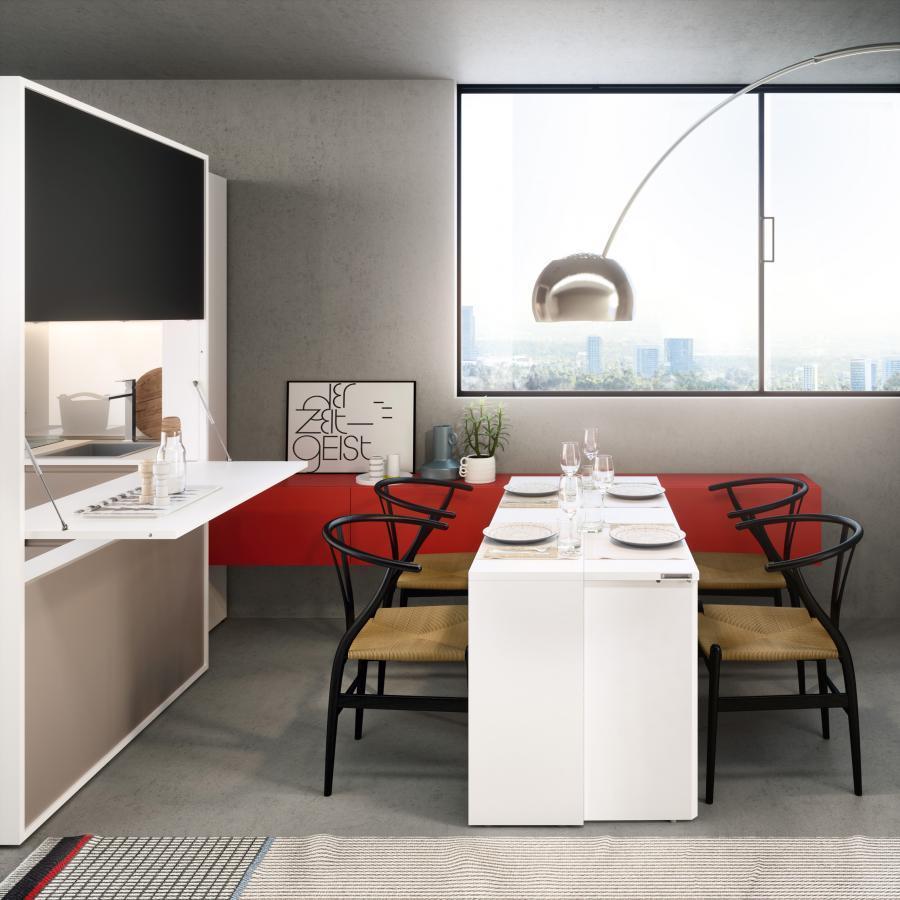 Space 10: Girò
On the opposite side of the room, another transforming system can fulfill two functions by switching between a sleeping and a living area, taking up a minimum amount of space. We are talking about Oslo Sofa in combination with Tetris and the elements of Living & Young System. A ready-to-use double bed or a big and elegant sofa for those relaxing moments can be alternatively accommodated in less than 4 sqm.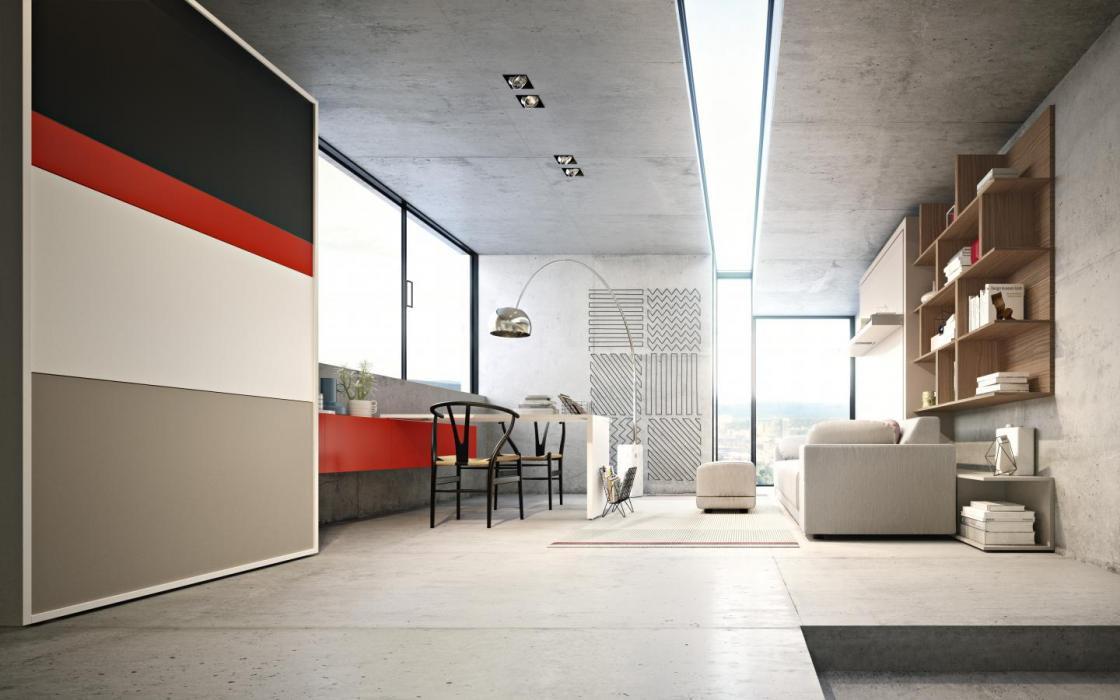 Space 10: Olso Sofa + Tetris + Living & Young System
Space 10 also shows the fundamental role of the colors in making a small studio look more spacious: in our example, the color red, besides being the "trait d'union" between the different modules, is the chromatic element that adds character to the environment. According to your personal taste, you could also recall this color in some of the furnishing accessories, such as lamps, pictures and fabrics.
With Clei transforming solutions, every centimeter of your studio is worth 1 meter!