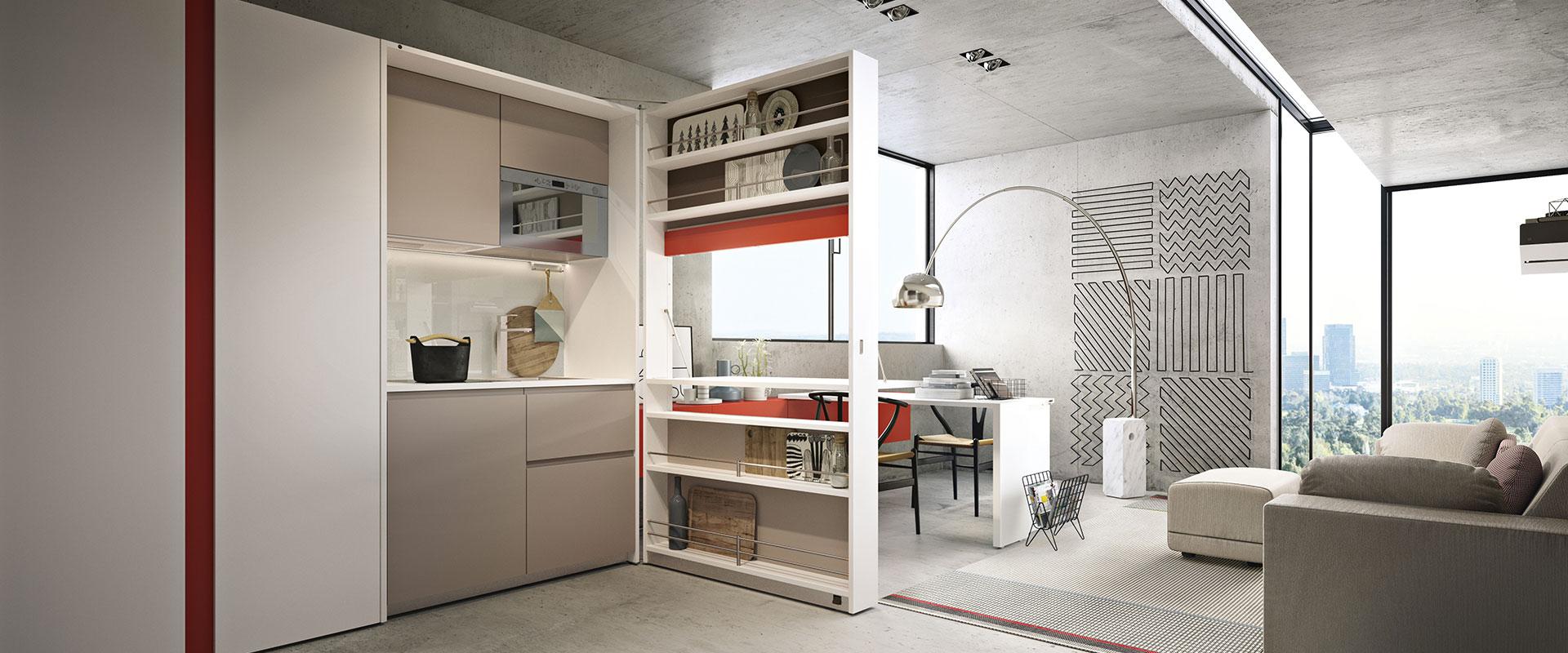 Inspirations - 6 June 2019
New ways of living: how modern house is changing
Our city, our home, our living spaces.
The space around us represents us, it tells something about us and is strictly connected with our way of living and with our habits.
Transforming cities, transforming houses
Metropolitan cities change rapidly and adapt to the new more dynamic and convenient lifestyles.
To meet these modern needs a new demand of residential space has arisen. Space, that has become the greatest luxury of our time.
The continuous urbanization process, the widening of city limits and the proliferation of settled areas contributed to the origin of what nowadays we call urban sprawl. Growing cities, densely populated and without defined limits.
These transformations have created a new kind of smart citizens: looking for living spaces suitable for the new city models and for solution to make the best use of them, filling them with comfort.
Hence dwellings change together with the needs of those living them, lately starting an irreversible process that enhances ergonomic and enjoyable spaces. Thus, a new made to measure model of "smart house" arises, suitable for new lifestyles.
Clei satisfies this convenience and style demand with a new dynamic and multifunctional concept of space.
Towards smaller, but more functional spaces
"Home space" is successful when we can fully enjoy it. Actually, no projected space should prove "useless" for our daily life.
A well defined and functional project is a good start, but you also need warmth, conviviality, intimacy, coziness. A plain style, focused on quality and convenience.
Dwelling are smaller than they were in the past. Families, couples and singles, the so-called new one-person households, tend to make very similar choices.
Moreover, western countries usually follow North American trends, where this kind of family are already respectively the 20% and 30% of the population, a growing phenomenon that creates new needs.
This is the background of the exhibition Making Room: Housing for a Changing America – The Open House hosted by Washington National Building Museum where we were main partners together with Resource Furniture.
A new subdivision of spaces
The dwelling model that best expresses the needs of the new society is a loft.
The ideal home is roomy and functional, a flexible open space where comfort and functionality are mixed together.
Now open spaces have made obsolete the concept of different rooms divided depending on their functions. Therefore, optimizing spaces mixing comfort and sociability has become a more and more widespread need in the cities of our times.
Transformable houses are the answer: no more static, clearly divided areas, but dynamic spaces projected to adapt to your needs and to the different times of the day, becoming the ideal place for the new lifestyles.
All you need is a good deal of creativity to easily transform the look of one space again and again during the day.
The kitchen space: moving with the times
Dinner with friends are one of our features, more and more common convivial rituals. The kitchen is the main place of this rediscovered sociability, wider and wider spaces to comfortably welcome your guests.
How can we imagine a modern kitchen nowadays?
It is one of the main protagonists of the architectonic revolution, of the new concept of living that gives a new life to the modern metropolitan house: the kitchen.
Creating the right atmosphere is the right way to welcome your guests. The right attention to the guest without overdo, the right balance that allows to show our dining and hosting culture and share our time and space with our friends.
From a separated independent area kitchen has been incorporated in a space you can use in various ways at different times of the day.
Among the numerous solutions to meet these needs Clei has conceived the foldaway kitchens which thanks to fully-equipped revolving doors almost magically disappear, thus doubling the space that can be used for day and night activities.
Research, ingenuity and patented technology are the features that allow to transform a dwelling made of rooms into a home conceived to organize and optimize spaces for modern smart citizens, assuring comfort, sociability and design.