How to organize your home spaces: ideas and tips
From modern lofts to old town flats, from metropolitan apartments to the great country mansions.
It does not matter how big your home is, the mission to pursue is to make it organized, useful and multifunctional, a dynamic solution to more and more frenetic life styles.
On the one hand a big house is subject to waste of space and accumulation of things, on the other the issue with smaller apartments is often a non-smart subdivision of spaces.
Therefore, optimizing and organizing spaces are the main goals to pursue.
In order to be free from that sense of confusion conveyed by not well organized or "cluttered" spaces you should start with some easy tricks. Organizing and furnishing home spaces with a mix of comfort, style and design is really easier than you may think. Thanks to some tricks and transforming solutions you can get rid of what is superfluous and find a new way for your home.
Three intelligent ideas
Hands up all those who ever wanted to wave a magic wand and transform their home. A touch of lightness to reconsider the spaces can actually change your dwelling and improve quality of life. Here three intelligent ideas you can put into practice.
Not everything is essential. Have you ever wondered if you really need all you have in your home? The frenzy of the everyday life often leads to objects accumulation, from the tiniest to the bulkiest ones, that usually prove to be useless and literally devour space. In this case the password is decluttering. First things first, in order to change spaces, you need to understand your needs and to do it you ought to realize how many things you have. Look at everything and ask yourself: "do I really need this?" The answer to this question can be influenced by a sentimental attachment to things. A clever trick is to think about the last time you used it, if it was more than a year ago, then you probably will not miss it. Getting rid of what you do not need is the first step to regain possession of your spaces.


A place for everything. At this point the best ally to enjoy your spaces is order: everything should have its own "home". This way you gain two benefits: visual delight and functionality. Finding what you need is going to be easier as well as cleaning and making your home more pleasant, roomier and more liveable.


Multifunctional furniture. The hardest part is done. Once you decluttered spaces getting rid of all that is superfluous, you will discover what your home really needs. It is time to focus on the choice of furniture and solutions mixing style and multifunctionality. Have you ever considered buying transforming furniture? You do not have to live in a tiny home to make this choice that will let you discover a completely new way to live your home. Thanks to exclusive project solutions you can better organize, multiply and change a space, depending on the needs arising at different times of the day.
One space, a lot of functions
Concentrate rather than scatter: on order to eliminate superfluous things and organize your home the solution are multitasking spaces. Organizing means not only order, but also intelligent space utilization.
A practical example?
A 14 ft wall can contain three different scenarios you can alternate during the day: kitchen area can be closed to have enough space for a delightful dinner with friends before the desired relaxing time.

A new space for every time of the day is what you can have with easy rapid moves thanks to Clei patents and technology. Space 11 has two souls: "Penelope 2 Dining", a transforming system with convertible double bed, tilting opening with safety mechanism to stop accidental opening and closing; and "Kitchen Box", a mini-kitchen that can be integrated into the Living & Young Systems, a wide range of components that can be coordinated with absolute design freedom, available in various finishes.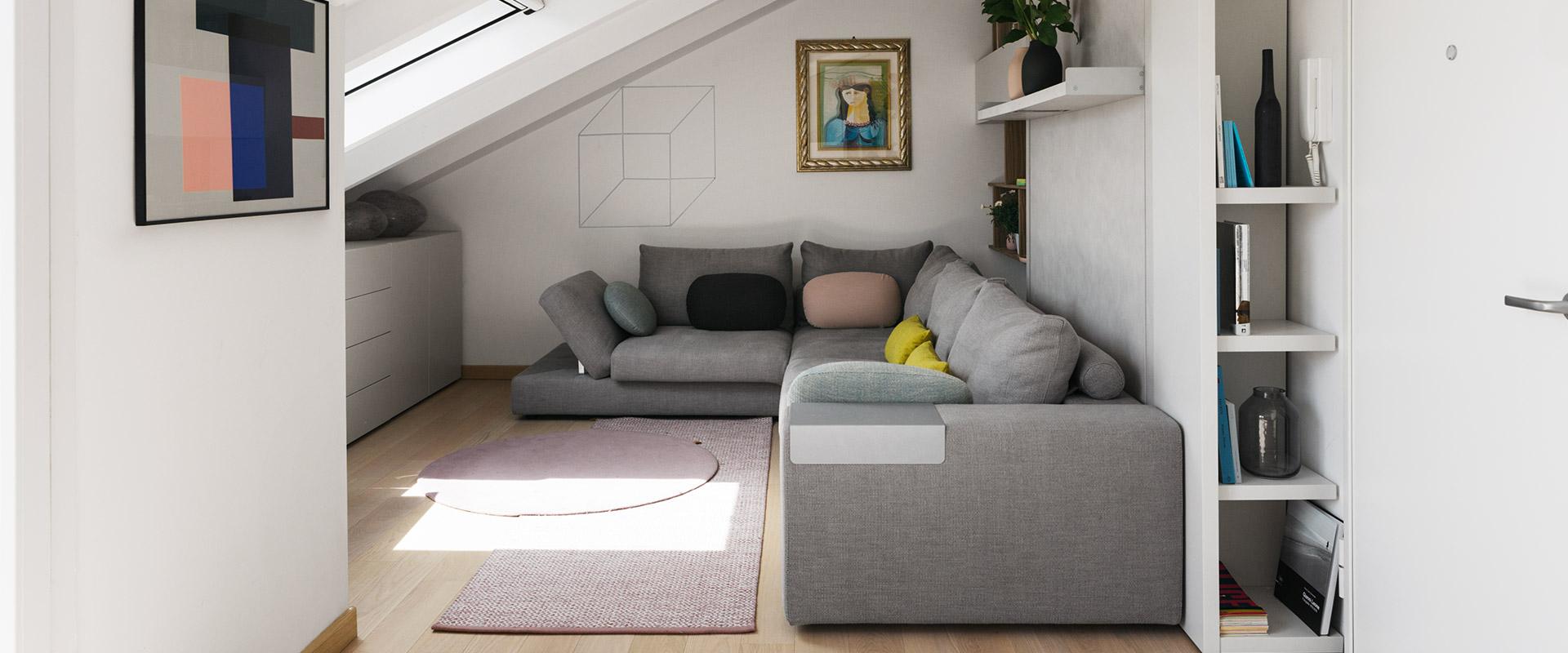 When a small-sized space is not a limitation but rather an opportunity: architect Pierluigi Colombo succeeded in cleverly and functionally furnishing a one-bedroom attic, thanks to Clei transforming solutions.
Read more