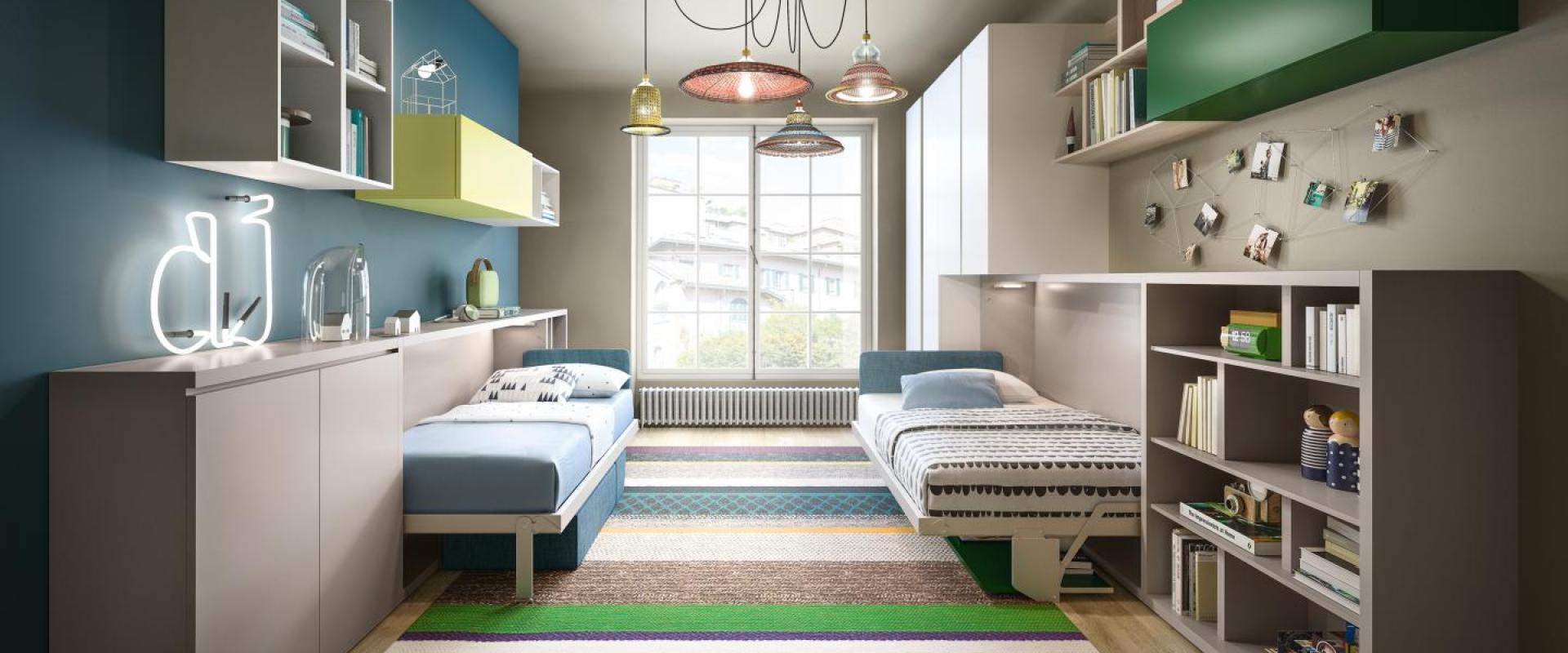 How to furnish a long and narrow kids' room
Furnishing a long and narrow kids' room requires appropriate tips and smart furniture solutions to create a comfortable environment, able to adapt to the different stages of their growth.
The keyword here is space optimization. Let's explore a number of space-saving tips to better exploit every available inch, through creativity and taste.
A room for two: how to arrange the beds
Functionality and coziness are the two keywords that lead to a better organization of your kids' bedroom.
Functionality, in particular, is dictated by the minimum dimensions, for example 14 square meters, required by a room to accommodate the needs of two people.
In case of a bedroom with a rectangular plan, the first issue to tackle is, undoubtedly, the arrangement of the beds.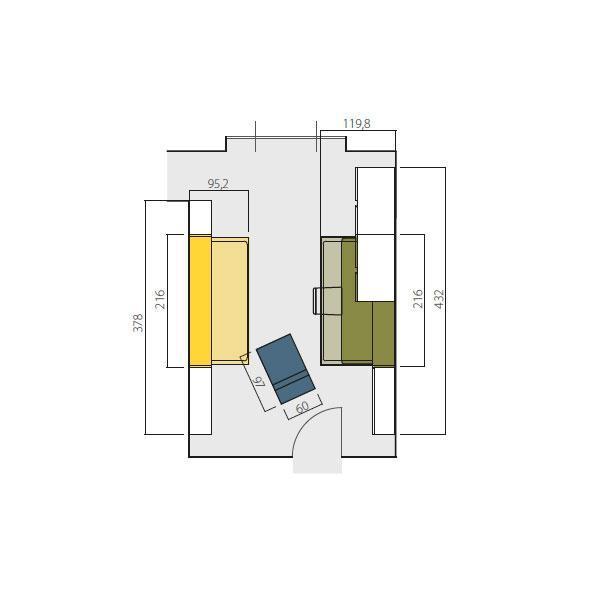 Space 01 Young
There are multiple solutions for the sleeping area, ranging from loft beds to bunk beds. To reduce clutter in the middle area of long and narrow bedrooms in order to allow more freedom of movement, we offer foldaway solutions as shown in our Space 01 with Kali Board, a wall featuring an integrated desk and a foldaway single bed.
This transforming system allows, with one simple movement, the conversion of the study area into a sleeping area, without removing any item from the desk thanks to its pivot system. A comfortable, simple and functional solution for an environment able to fulfill different functions throughout the day.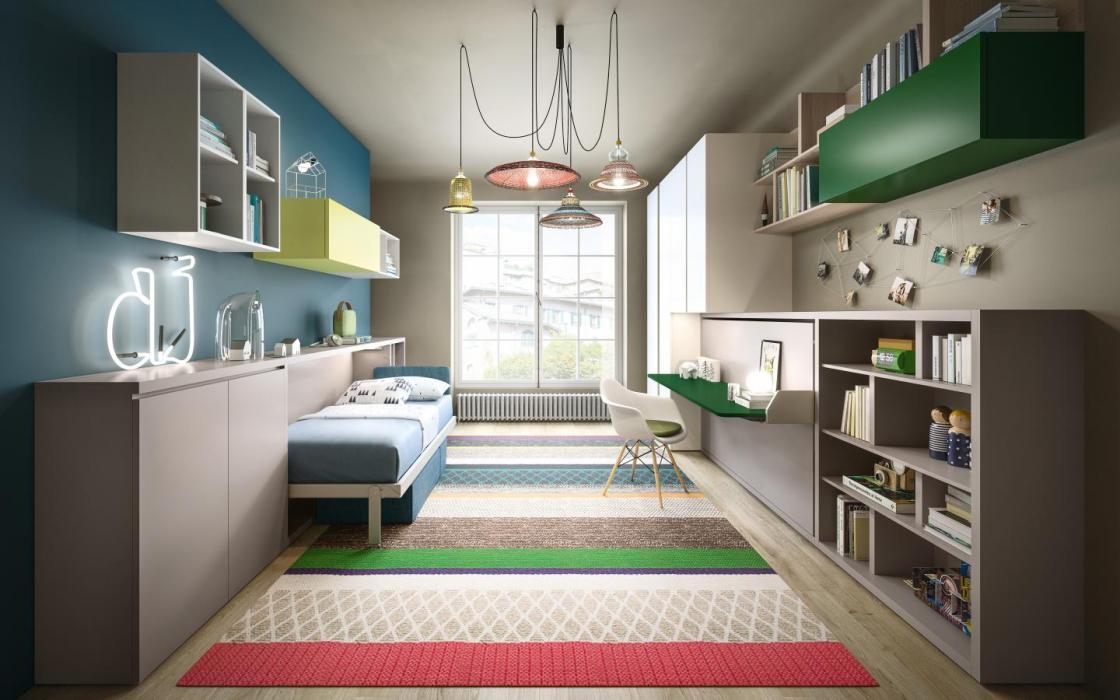 Space 01 Young: Kali Board + Kali
In Space 01, we have arranged the Kali transforming system on both sides along the longitudinal direction of the room, thereby creating two independent beds and leaving ample space in the middle of the room.
This arrangement also emphasizes the role of light: the head of the two beds is facing away from the window in order to minimize annoying light exposure upon waking up. When the bed is folded away leaving space for the desk, the light entering transversely helps reducing eyestrain, especially if studying on a computer, and maximizes natural light exposure during the day.
The finishing touch is provided by Miguel, the chaise longue with a reclining backrest that can be placed underneath the beds when not needed.
How to organize the study area
When designing a kids' bedroom, besides the beds arrangement, a major role is played by the study area. Even if your children are still young, we recommend thinking long-term by choosing transforming solutions able to adapt to their growth, thereby avoiding the need of a new furnishing arrangement within a few years.
In case of a shared room, it is necessary to create two comfortable working stations and to account for the different needs of your children. The most important elements to create a study area are the desk, the bookcase (or the shelves) and the chair…. And everything doubles up in case of a double room. With a rectangular plan, the arrangement of all these elements can be a complicated task.
Once again, transforming solutions allow you to multiply the usable space, without compromises, arranging all that is needed on a single wall, with style and convenience.
A perfect example is represented by foldaway or hideaway desks, integrated in other elements of the room, such as Cabrio In, which is featured in our Space 10. This solution combines a single bed with a wide and comfortable study desk that can be lifted when not needed, leaving other areas of the room free to be used for other purposes.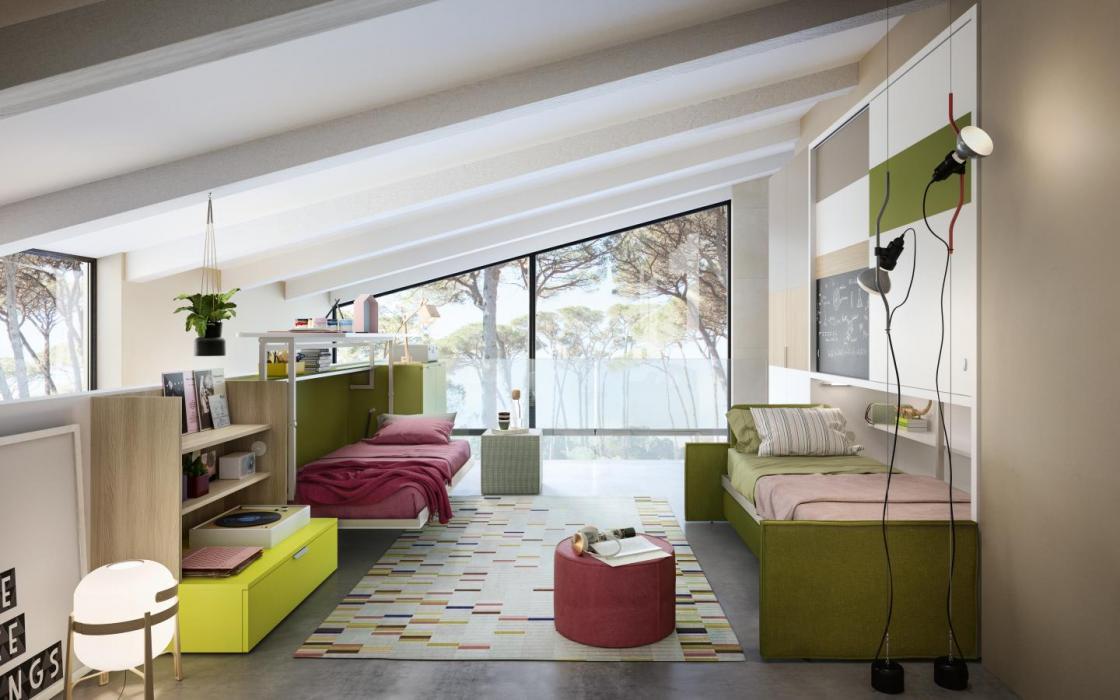 Space 10 Young: Cabrio in + Kali Ponte Sofa + Living e Young System
The transforming system is completed by modular elements, a wardrobe, a deep drawer and open wall units to store book, notebooks and everything needed by the kids for studying.
Alternating solid and hollow volumes and the modules' color scheme creates an aesthetically harmonious and balanced wall.
As for the chair, we recommend to select it together with the desk in order to take into account the right dimensions for a correct posture.
Leaving some room for relaxing
Sleeping, studying but also playing, relaxing and having fun. A kids' bedroom should present suitable spaces for each of these moments. In a long and narrow room, it is important to keep a clear space in the middle, such as in our Space 10. Here, thanks to the longitudinal arrangement of the transforming furniture, it is possible to obtain the necessary space to carry out different activities, also including a comfortable sofa taking up minimum space, perfect for those relaxing moments.
This is possible thanks to Kali Ponte Sofa, the transforming system that can contain a foldaway single bed, a couch and a spacious wardrobe with sliding doors, fully exploiting the available height to keep everything in order.
With Clei transforming solutions, every centimeter of a long and narrow bedroom is worth double!