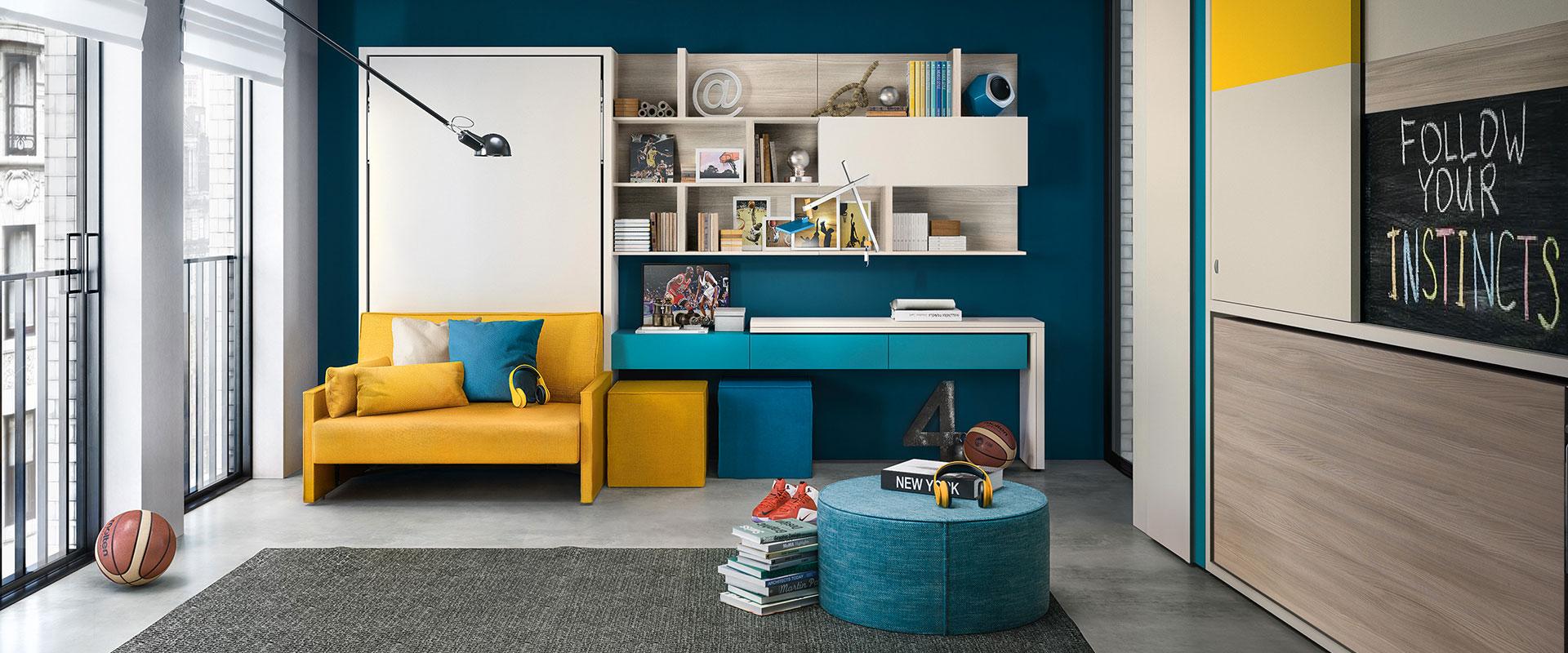 Solutions - 9 September 2021
Save-spacing ideas and solutions for your kids' room: from kids' rooms to transforming spaces
Playing and relaxing. Studying and sleeping, containing and storing. Everything in the same space.
The kids' room is a no man's land. It's a place where kids not only spend most of their time, but also start to cultivate those hobbies and passions that will define them as grown-ups, feeling free to express themselves. This space changes with them, growing in harmony with what they love.
This is why it has to be versatile and flexibly adapt to their different daily activities and ever-changing needs. While it's true that there are countless ideas for furnishing a kid bedroom, it doesn't always mean they are the best options available.
The good news is that you can't be wrong if you follow these tips, which will also help you avoid any mistakes that might compromise the functionality of such a vibrant and lively space. Here they are:
Do not crowd the walls with too many pieces of furniture. If you worry about forgetting something important, you risk invading all the walls with every kind of furniture. The result is an uncomfortable, chaotic and oppressive space. Living in such a space would not be pleasant. In order to breathe new life into it, it is better to focus on a few key elements and combine them in the best way possible.
Think long term. Children are not children forever. Year after year, they grow up and change their tastes and needs. Old habits give room for new ones. Teddy bears and toy bricks are put away and replaced by books, guitars and videogames. The more kids grow up, the more they need to personalize their space. When you buy and organize the furniture of their room, you should consider this. Choose cozy and versatile solutions. Solutions that adapt without any problems to the new different needs of your kids. Choose multifunctional furniture, easy to use and safe, and able to follow them while they grow up.
Every centimeter is valuable. Not only the walls, but also the whole area of the children's room should be used in the best way. Why should you waste useful space by occupying it with bulky furniture and accessories? You should rather choose transforming solutions to maximize the space you have.
Kids' bedroom furniture: bed, desk and bookcase
Whether it is a small or a big environment, when looking for ideas to furnish your kids' room there are three key elements that cannot be missing: a bed, a desk and a bookcase.
The first question you should answer to is: how many hours do your kids sleep? If they are teenagers, it's going to be between 8 and 10 hours, younger children even more than 14 hours.
This means that they spend most of their day in bed. Therefore, it has to be comfortable, strong and ensure a good quality sleep.
What about the rest of the day? Depending on their age, they need to balance their playtime, hobbies and studies. As stated above, the kids' bedroom is a versatile space that works as background for different activities, from sleeping to intensive sport training.
In order to optimize every centimeter and give everything your kids could need without sacrificing the design, you can opt for a convertible bed: when it is time to go to sleep you can open it with an easy move and when the alarm clock rings, you can make it disappear just as rapidly. Thus, there is more space for playing or spending time with friends.
Another important element is the desk. The youngest ones get used to it by using it for their adventurous games. After a few years, it becomes a valuable ally for studying. Therefore, it is crucial to choose a big enough desk able to meet any future needs.
Lastly, the third key element is the bookcase. From children's books to textbooks, the bookcase can contain whatever is needed to study. Despite the name, it is useful for books and comics, as well as for other things such toys or videogames. If you want, you can also add practical storage compartments to the shelves of your bookcase in which, for instance, you can put toys before bedtime.
Ideas for ever-changing kid's rooms: from children to teenagers
We are well aware that childhood is a decisive period in life, being a time of rapid changes: day after day your children grow up, developing their own identity little by little and getting ready to become adults.
What we often underestimate, though, is that different stages of their growth bring different needs in terms of space.
Little children need wide spaces to explore and play. On the other end, the bedroom becomes a shelter where your teenage kids can spend time with their friends, an environment they can personalize and perceive as their own. In both cases, the right choice is to find save-spacing solutions for the bedroom, able to make the most of every centimeter available.
That's why you have to plan ahead and choose innovative solutions that mix ingenuity, design and
comfort. If you don't know where to start, it could be useful to take a look at some kids' room save-spacing projects.
Let's start with our Space 07 that provides a perfect solution for a room for two kids. By a single wall we find a sofa, a comfortable bed, a desk and a bookcase. This is possible thanks to Clei transforming systems, able to perform more functions in a single piece of furniture.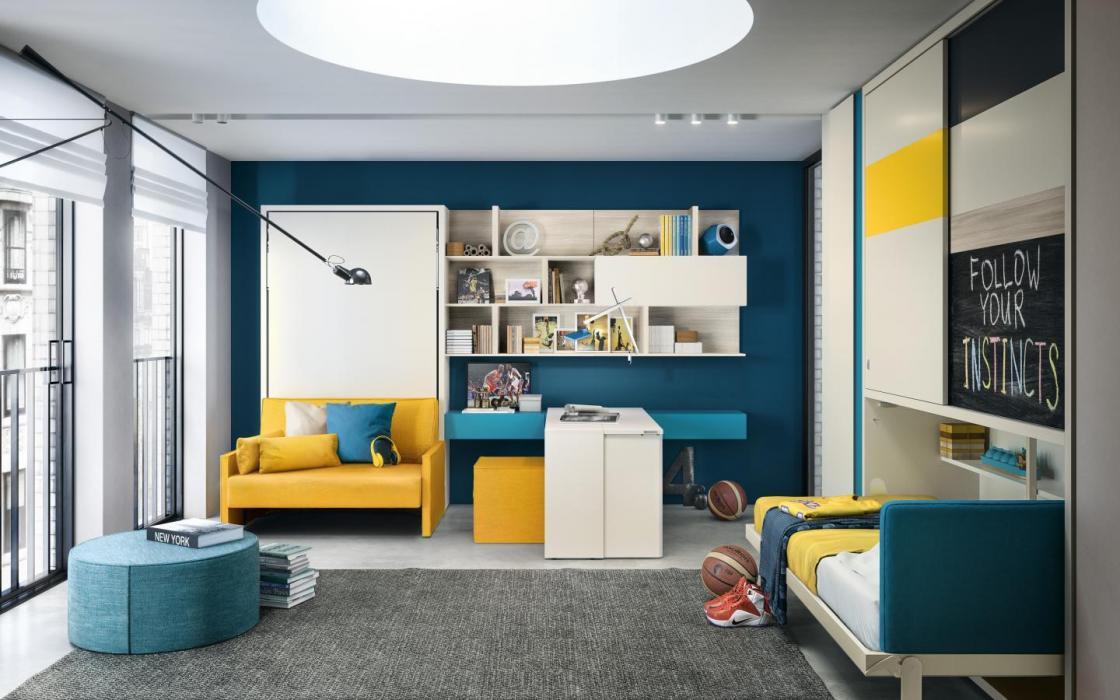 Space 07 Young
Sofa and bed are included in Altea Sofa: as the bed is opened, the sofa tilts backwards and easily slots in underneath the bed.
Girò is not just a desk, but a table with a rotating mechanism that, after it has been used, can be rotated back and closed against the wall, freeing up the room and only occupying the space of a wall console.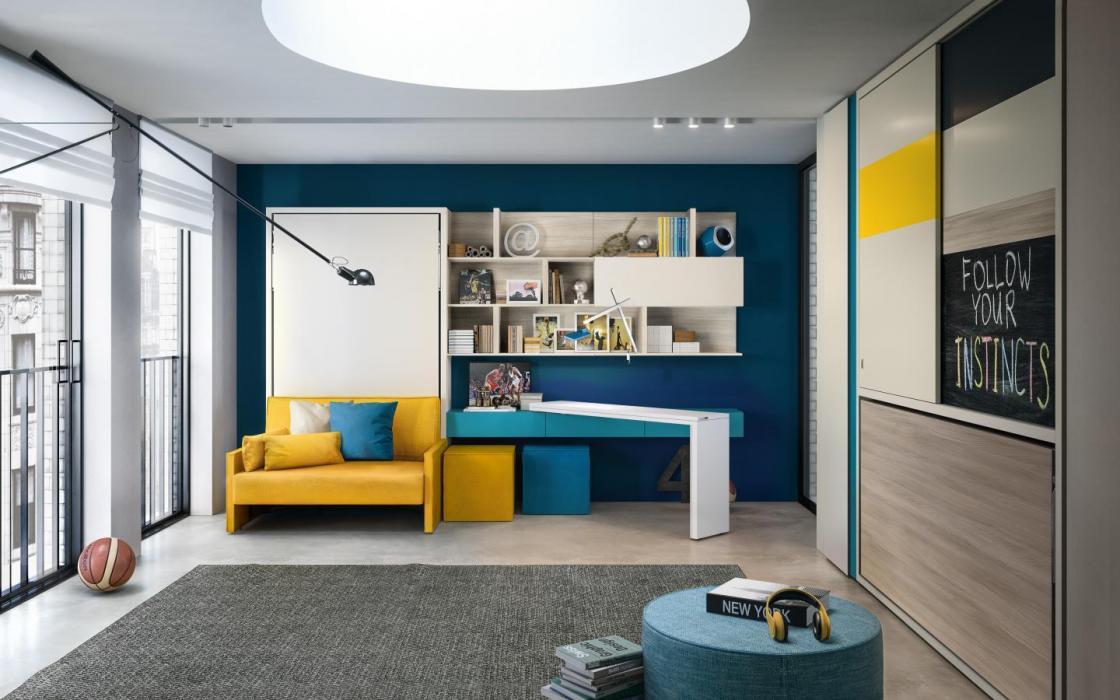 Space 07 Young: Altea Sofa + Girò
Against the adjacent wall there is Kali Ponte Standard, a transforming furniture with a bridge wardrobe with sliding doors and a foldaway bed. Also in this case the bed can be opened with a rapid move and again easily and safely closed in the morning.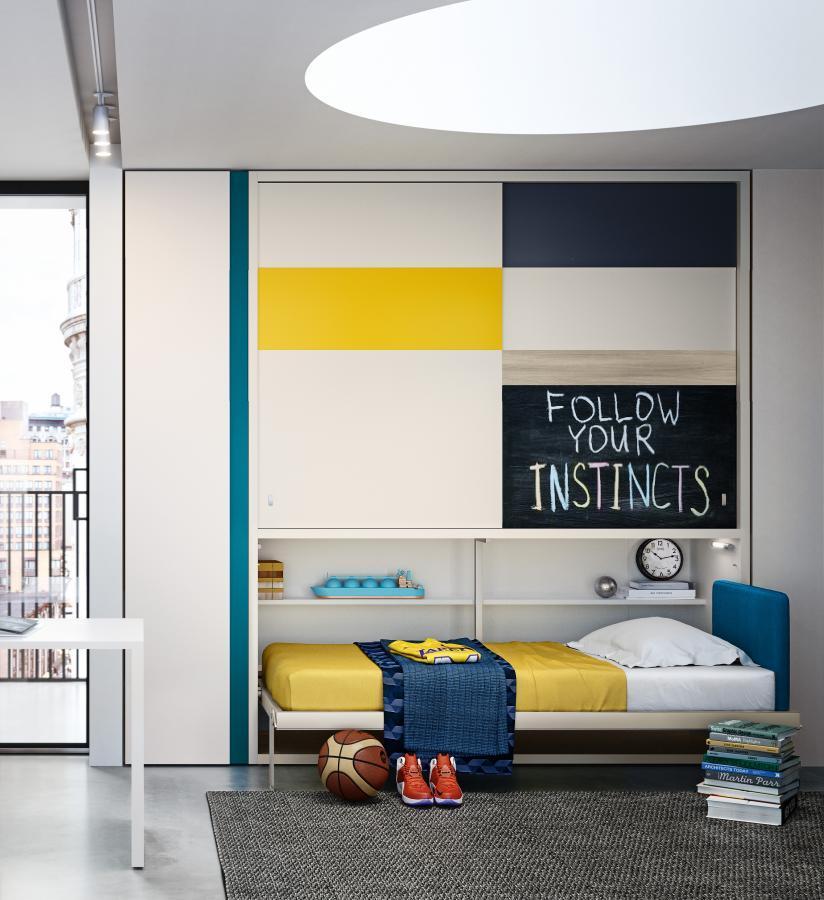 Space 07 Young: Kali Ponte Standard
Save-spacing solutions for small bedrooms
If you are looking for the right furniture for a small kids bedroom our Space 01 is the best solution. It is designed to provide your kid everything he needs, including an extra bed for his best friend's sleepovers.
In order to create it, you just need two walls to arrange Clei's transforming systems Kali Board, a foldaway bed with an integrated wide desk and tilting opening and Kali Standard, a foldaway bed system that, when closed, leaves plenty of room for any hobby.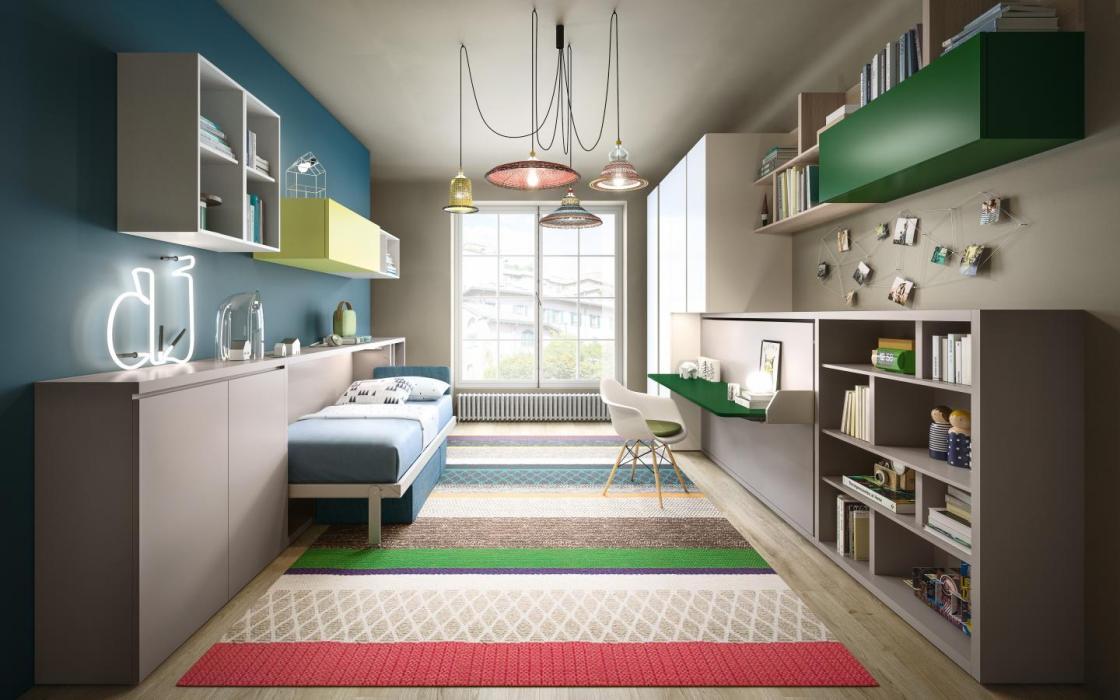 Space 01 Young: Kali Board + Kali Standard
The shelves, bases and bookcase elements of Tetris, a versatile modular system that allows personalized combinations able to adapt to any needs, are also installed on the walls.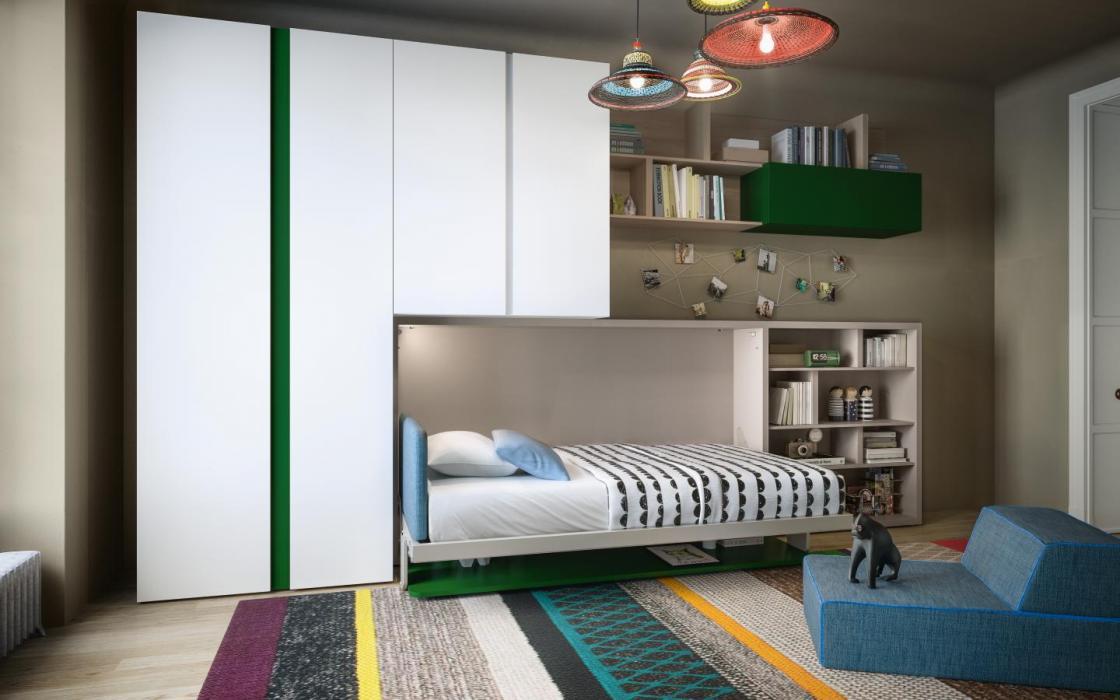 Space 01 Young: Kali Board + Tetris + Miguel
Lastly, the icing on the cake is Miguel, a chaise longue with reclining back rest perfect for relaxing and able to disappear completely under the Kali Standard bed.

Space 01 Young: Miguel
Using these solutions for your kids' room increases the value of the space, making every centimeter worth a meter.