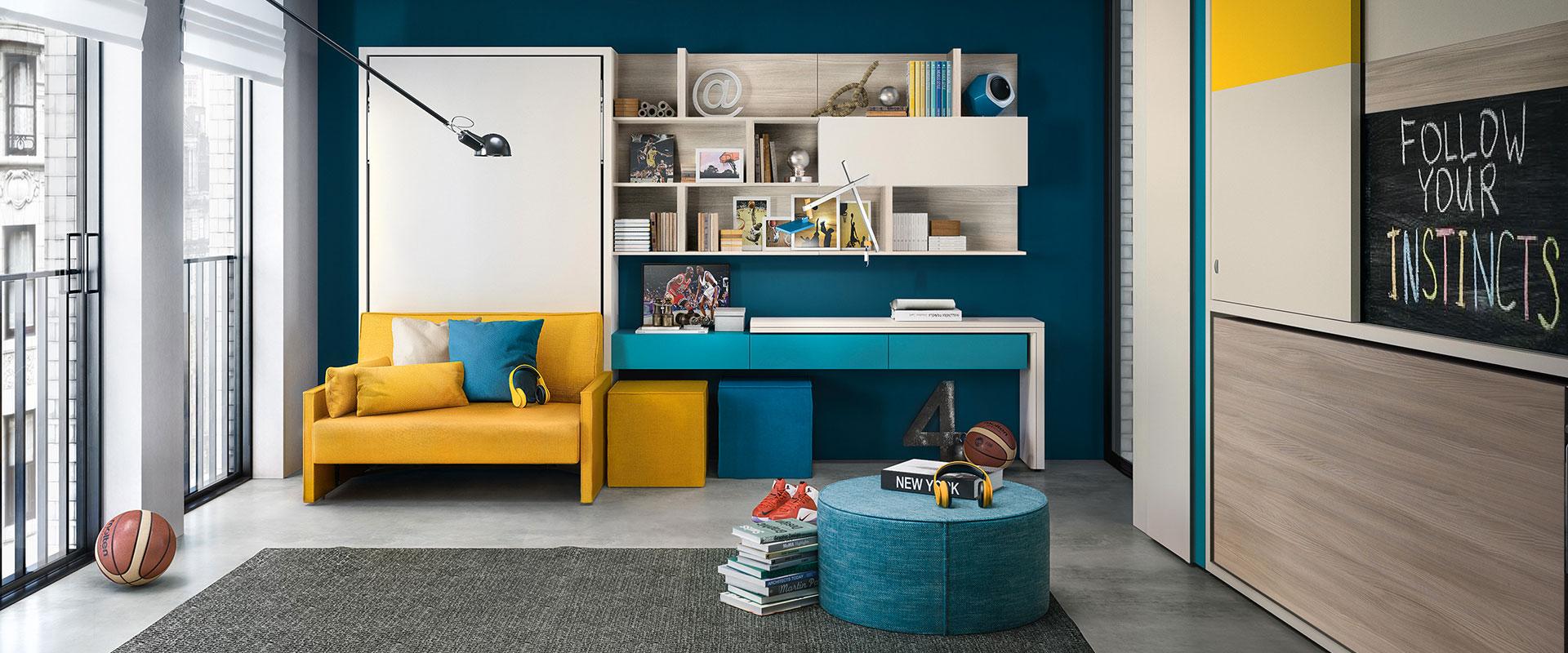 Kids' room solutions: from just children's room to transforming spaces
Playing and relaxing. Studying and sleeping, containing and placing. All this in the same space.
This is what your children do in their rooms. All day long and every day. This is why their space ought to be versatile, to flexibly adapt to the various activities of the day. Activities that change with them while they grow up.
Yes, because over the years, while little children become teenagers, their needs change as well. How is their room? Does it adapt to their changes? How can you best organize it?
Here three tips:
Do not crowd the walls with too many pieces of furniture. If you worry about forgetting something important, you risk to invade all the walls with every kind of furniture. The result is a chaotic, choking space, not really comfortable. Living in such a space would not be pleasant. Breathe new life into it, focus on a few basic elements and combine them in the best way possible.
Think long term. Children are not children forever. Year after year, they grow up and change tastes and needs. Old habits give room for new ones. Teddy bears and toy bricks are put away and replaced with books, guitars and videogames. The more kids grow up, the more they need to personalize their space. When you buy and organize the furniture of their room, you should consider this. Choose cozy and versatile solutions. Solutions that adapt without any problems to the new growing needs of your kids. Choose multifunctional furniture, easy to use and safe to follow them while they grow up.
Every centimeter is precious. Not only the walls, but also the whole area of the children's room should be used in the best way. Why should you waste useful space by occupying it with bulky furniture and accessories? Choose smart solutions to maximize the space you have.
Necessities: bed, desk, bookcase
Whether it is a small or a big space, in kids' room you always need three paramount elements: bed, desk, bookcase.
How many hours do our children sleep? If they are teenagers between 8 and 10 hours, younger children even more than 14 hours. This means that they spend most of their day in bed. Therefore, it has to be comfortable, strong and ensure quality sleep.
What about the rest of the day? Depending on the age, it is made up of play, amusement and study. Different activities in the same space. In order to optimize every centimeter, still considering design, you can go for a convertible bed: when it is time to go to sleep you can open it with an easy move and when the alarm clock rings you can make it disappear just as rapidly. Thus, there is more space to play and spend time with friends.
Another important element is the desk. The youngest ones start to get used to it by playing with it. After a few years, it becomes precious for studying. Therefore, it is crucial to choose a desk big enough to meet future needs.
A third element is the bookcase. From children's books to textbooks, the bookcase can contain all the necessary to study. Despite the name, it is useful for books and comics, as well as for other things such toys or videogames. If you want you can also add practical storage compartments to the shelves of your bookcase in which, for instance, you can put toys before bedtime.
Transforming kids' rooms: from children to young
Childhood is a decisive period in life. It is a time of rapid changes. Day after day children grow up, building their own identity little by little. They prepare to become adults.
Every step has specific requirements. Little children need wide spaces to explore and play. For teenagers their room is a shelter and a space where spend time with friends, an environment they can personalize and feel of their own. In both cases, it is important to optimize spaces, making use of every single centimeter.
That' is why you ought to be far-sighted and choose innovative solutions that mix ingenuity, design and comfort.
View a complete project to have clearer ideas of your kids' room.
Our Space 07 provides a perfect solution for a room with two children. Against only one wall there are a sofa, a comfortable bed, a desk and a bookcase. This is possible thanks to Clei transformable systems that perform more functions in a single piece of furniture.
Sofa and bed are included in Altea Sofa: as the bed is opened, the sofa tilts backwards and easily slots in underneath the bed.
Girò is not just a desk, but a table with rotating mechanism that, after it has been used, can be rotated back and closed against the wall.
Against the other wall there is Kali Ponte Standard, a transformable furniture with a bridge wardrobe with sliding doors and a foldaway bed. Also in this case the bed can be opened with a rapid move and again easily and safely closed in the morning.
That is the way to multiply the value of space, where, metaphorically speaking, every centimeter equals a meter.
This is one of Clei solutions for a transformable home.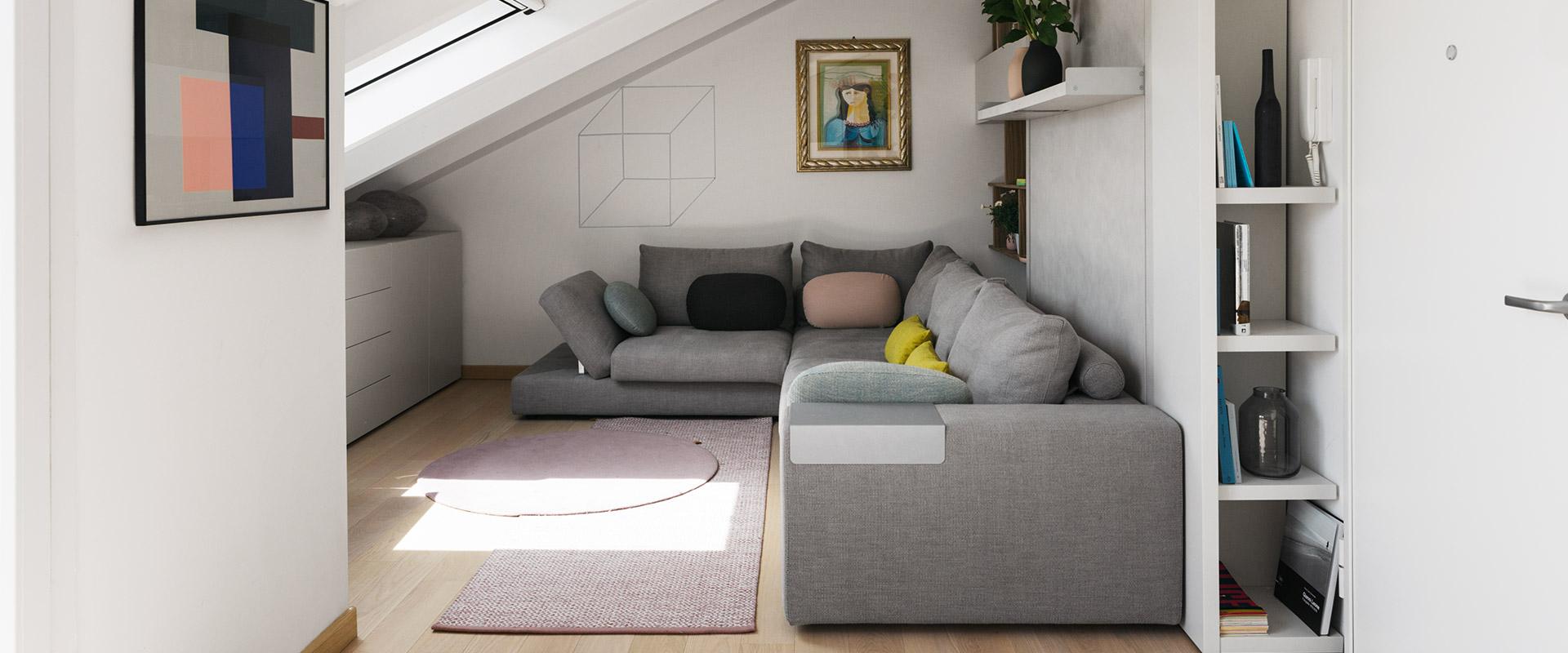 When a small-sized space is not a limitation but rather an opportunity: architect Pierluigi Colombo succeeded in cleverly and functionally furnishing a one-bedroom attic, thanks to Clei transforming solutions.
Read more