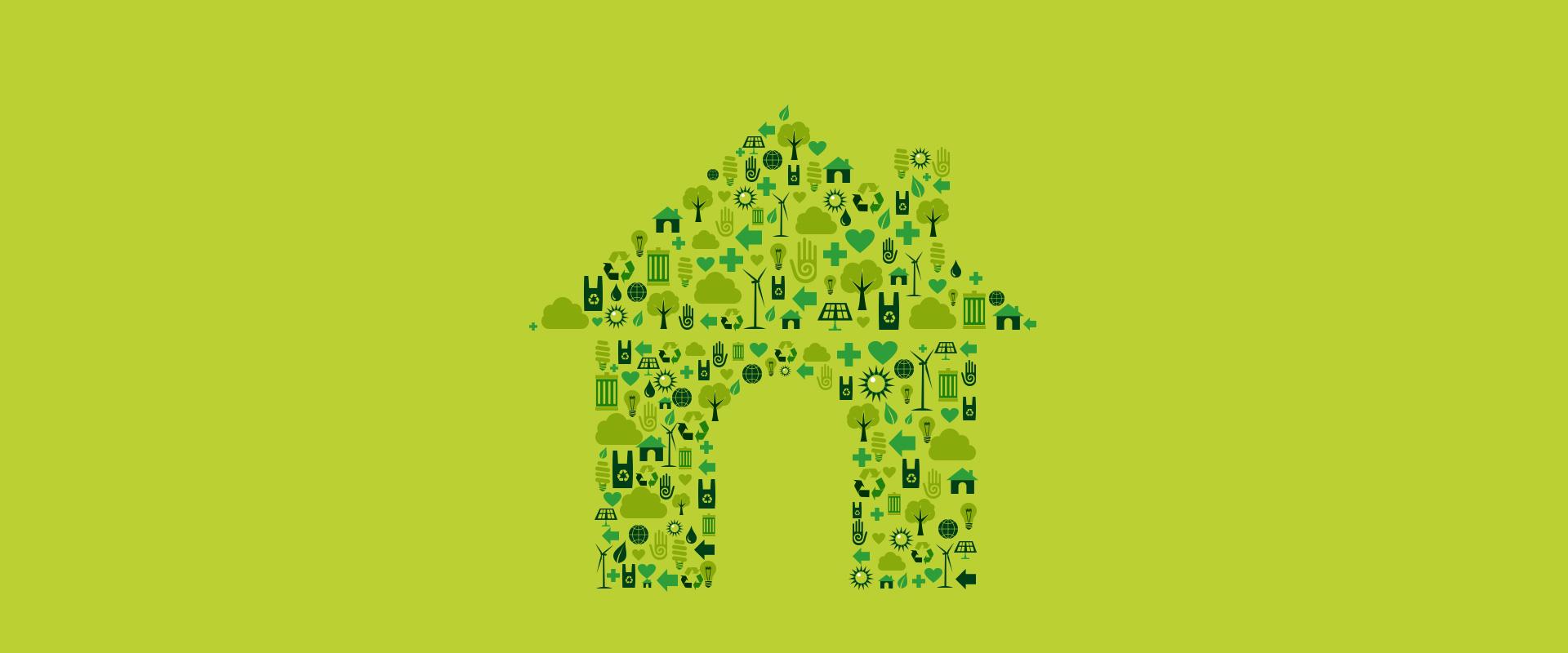 Inspirations - 23 July 2019
Sustainable dwellings: the house of the future
Some people think that this is just a passing fad or something to talk about at dinner to give a good impression. As a matter of fact, environmental sustainability is a way of life.
A way of life that affects various aspects of life: from everyday habits, such as waste sorting or using tissue shopping bags rather than the disposable ones, to bigger decisions. For example, the choice of the house where you want to live.
Why do we choose a sustainable lifestyle? Awareness
We realized that everything we do, no matter how small, affects the environment around us. We started to understand that by taking some precautions and changing some behaviours, we can help make things right for everybody. For people. For animals and plants. For the whole planet.
So, slowly our way to look at the world has changed and eventually also our everyday behaviours. That is why we read the labels of the products we buy. That is why we choose to buy cosmetics and detergents that do not pollute seas and rivers. That is why we choose to live in sustainable houses.
What makes a house sustainable
Oh, yes! Our house can help us to take care of our planet that, because of the global warming, is literally melting.
In order to reduce the ecological footprint of our dwellings we can embrace green building (also known as sustainable planning and bioarchitecture) principles that are having more and more effect in the building market.
"Green" building is first of all a defined planning choice about both the final product (the house) and the whole construction process.
It is not enough to use natural materials or install systems that use energy in highly efficient ways; not if those materials arrive from very far away and require a very long road transportation or if packages are not recyclable, or even, if constructions produce too much non recyclable waste. In all these cases the environmental impact is significant.
How to choose materials
Firstly you need to consider the whole building's life-cycle, from construction to demolition. This requires a great attention to the choice of materials, that should be :
strong, so that they can resist being used a lot and reduce the maintenance actions needed and the replacement with a different material

natural so that they pollute as little as possible. The natural origin materials such as mineral wool, cork oak, expanded clay undergo a simpler production process and, other than other building materials, they do not contain harmful substances that could be released in the environment during building demolition

local to reduce CO2 emissions due to the transport to the construction site.
How to position your house
Another crucial principle of sustainable planning, to obtain maximum energy conservation, is the position of the house considering the natural resources such as sunlight and wind. In particular, it is decisive the altitude, the soil on which you build, the exposure to the sun, the distance from hills and mountains that can cast shadows or protect from winds. Considering all this you can plan the position of the spaces in order to make the best use of the natural resources to warm, cool or light up the spaces and maximize consumption efficiency.
Thermal insulation
Another way to reduce energy consumption is avoiding heat transfers. This means that you need windows and doors with a high thermal resistance (such as double glazing) and you have to insulate your walls and roof with building insulation materials. In fact, a good insulation reduces heat transfer from inside and outside, so you are going to need less energy to keep the spaces warm in winter and cool in summer. The idea is again the same: lower consumption, lower ecological footprint.
Renewable energy and domotics
Sustainable means also choosing renewable energy resources. Installing a photovoltaic system allows to make use of the natural power of the sunlight to get the electricity you need to light up, warm and cool your home. While a solar thermal collector can provide warm water. You can also install a rainwater collection and filtration system to do the washing or to water your flowers and plants.
Technology can bring you a step ahead in reducing consumption. Domotics can help you control the temperature of the house and preset maximum and minimum temperatures. Thereby, you can optimize the use of heating and cooling systems and reduce energy consumption. Moreover, you can control and set shadowing systems for your windows, such as awnings or brise soleils, in order to let sunlight warm house spaces only when needed.
Lastly, also small size spaces help to reduce consumption. Smaller houses need less resources, both of energy and soil.
Smaller spaces and sustainability
Reducing waste means also optimizing your home spaces. How much space do you need to live in a cozy, convenient and comfortable home?
If spaces are planned in a functional way, you can reduce the surface and at the same enjoy all the comfort you want.
Choosing to live in a sustainable dwelling does not mean to give up living in a comfortable space. You only need to optimize spaces.
In order to do that, open your door to transforming furniture. They can help you to make use of every single corner. You will enjoy all the space. Free it from furniture that invade it for hour and hours, even if you do not need it. Just think about how much space your bed takes even when you do not need to sleep.
Choose sustainable furniture, that care about the health of the environment. Solid, long-lasting furniture.
Combine them to enhance every single centimeter.
In our Space 01 there are two transformable systems to optimize a space for two persons. A 20 m2 room transformed into a flexible and dynamic space where you can relax on the sofa, eat or work with the greatest comfort.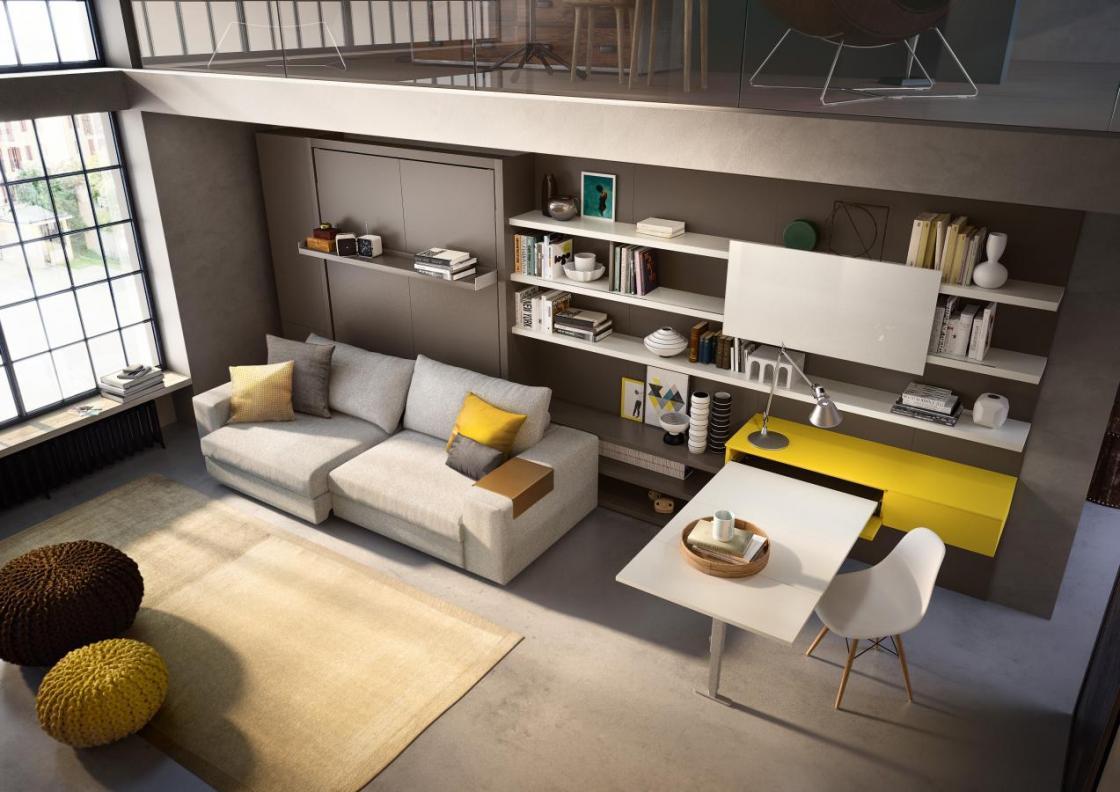 Tango Sofa combines a sofa with seat cushions filled with natural down and a double bed with slatted bed base. By day you can use the sofa in the living area. By night the sofa disappears and allows the foldaway bed to be opened. The bed is easy to open, you can do it with only one move and safely close it the next morning.
App is a pull-out table fitted into a case element with closing flapping door, you can open it to eat, work or study and then close it.
Planning a sustainable house and optimizing your home spaces with furniture that can change and adapt to your needs means reduce waste and support green economy.