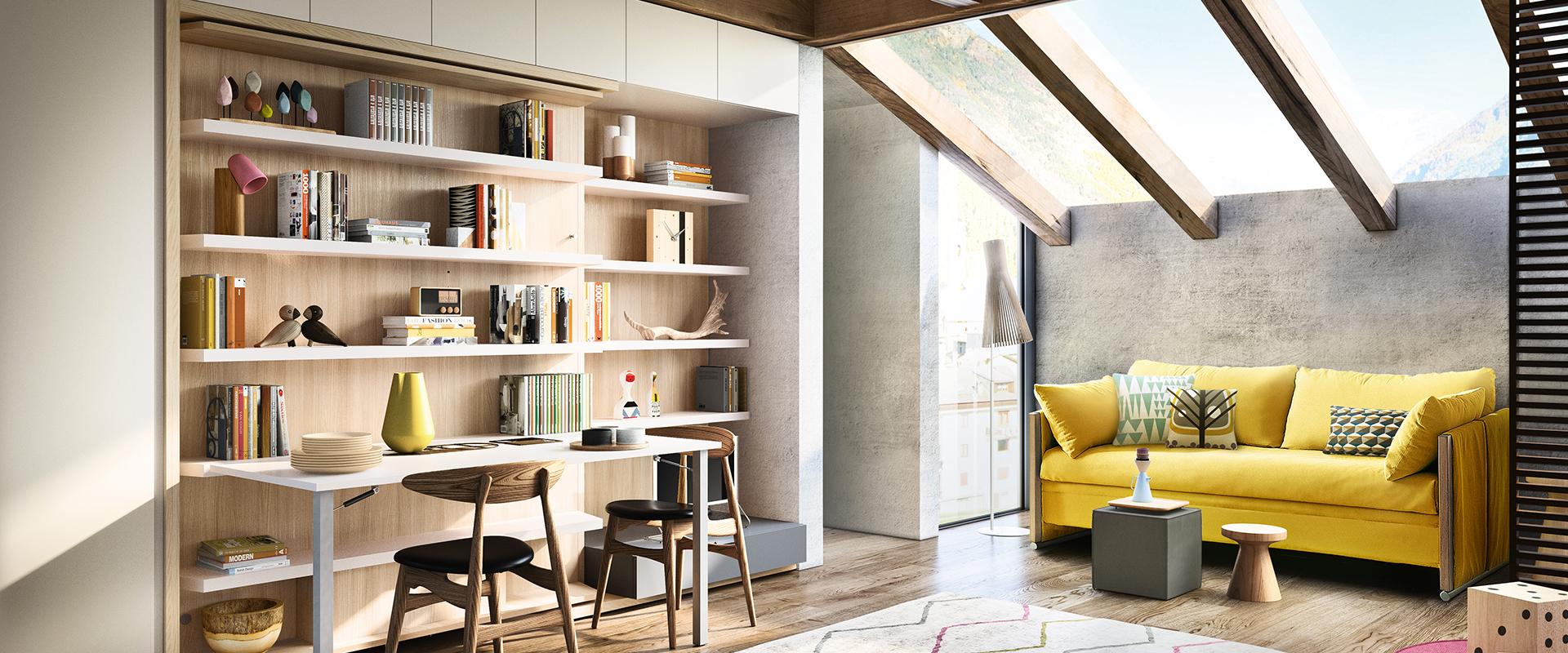 Solutions - 23 October 2019
How to furnish an attic by using an innovative approach
Specific solutions can turn any attic into a functional and comfortable space.
Boxes, pieces of furniture randomly placed next to each other and long-forgotten objects. Your attic can be so much more than just a permanent storage room where you keep everything that no longer fits in your home.
Not only attics, but also garrets and lofts, when functionally organized, can become domestic spaces able to cleverly meet the needs of a contemporary lifestyle.
In order to achieve this result, the specific contour of the available space (limited and irregular square footage, sloped ceilings, no perimeter windows) has to be taken into account to exploit its full potential.
Here is some helpful advice on how to furnish your attic, turning the limitations of these fascinating - but hard to use - spaces into added value to your home.
Open space attic
One of the specific features of the attic space is the sloped ceiling, often quite high at the ridge and degrading in height towards the perimeter walls.
In order to avoid small and suffocating spaces, we recommend to opt for open space solutions, which allow for a reduction of the interior partition walls.
This type of solution emphasizes on the features of the space, while also often creating a scenic environment.
In this case, the choice of the furniture is extremely important to optimize every inch of space and unlock its full potential.
The main feature of an open space is that, within the same amount of square meters, it can fulfill many different functions. In the case of an attic, this may result in the simultaneous presence of a kitchenette, a living and a sleeping area.
To this end, the furniture can be used as a partition between different areas, such as an open bookcase separating the sleeping area from the living area.
It would be even better to opt for furniture that smartly enhance and multiply the spaces, such as Clei's transforming furniture, which can functionally merge two separate areas.
To furnish your attic we recommend to:
Choose short and long storage furniture to take advantage of the lower areas
Choose sliding or folding shutters, doors and windows to save space and ensure freedom of movement
Opt for neutral colors that increase the perceived size of the space
Make consistent color and style choices when selecting furniture, accessories and walls color in order to uniform the entire open space.
Provide as much lighting as possible to the spaces
In an attic, lighting is one of the most important aspects to consider.
In a space with sloped ceilings and an irregular shape, natural lighting can be very important. Several expedients and solutions can help bringing sunlight into your attic:
Choose a white color for walls, furniture, windows fixtures, sofas and tapestry. Light colors are able to absorb the light from outside, increasing the brightness and the perceived size of the space.
When natural light is not enough, consider an artificial interior lighting system: floor lamps compensate for the lack of natural light, while also enhancing the style of your space.
When the structural conditions allow it, install windows and skylights both on perimeter walls and on the ceiling. By doing so, the zenithal light will be illuminating your house throughout the day.
How to furnish an attic with exposed beams
Attics are often characterized by the presence of exposed beams. These elements, designed with a structural purpose, can in fact provide a high esthetical impact.
Not all exposed beams are the same. There are antique wood beams, often irregular and with a vintage feel; hardwood beams, that can adapt perfectly to the industrial style but also to the rustic style; and, lastly, there are natural wood beams typical of the Nordic style.
Knowing the type of the truss is a decisive factor for choosing the most suitable furnishing style and adding value to the space.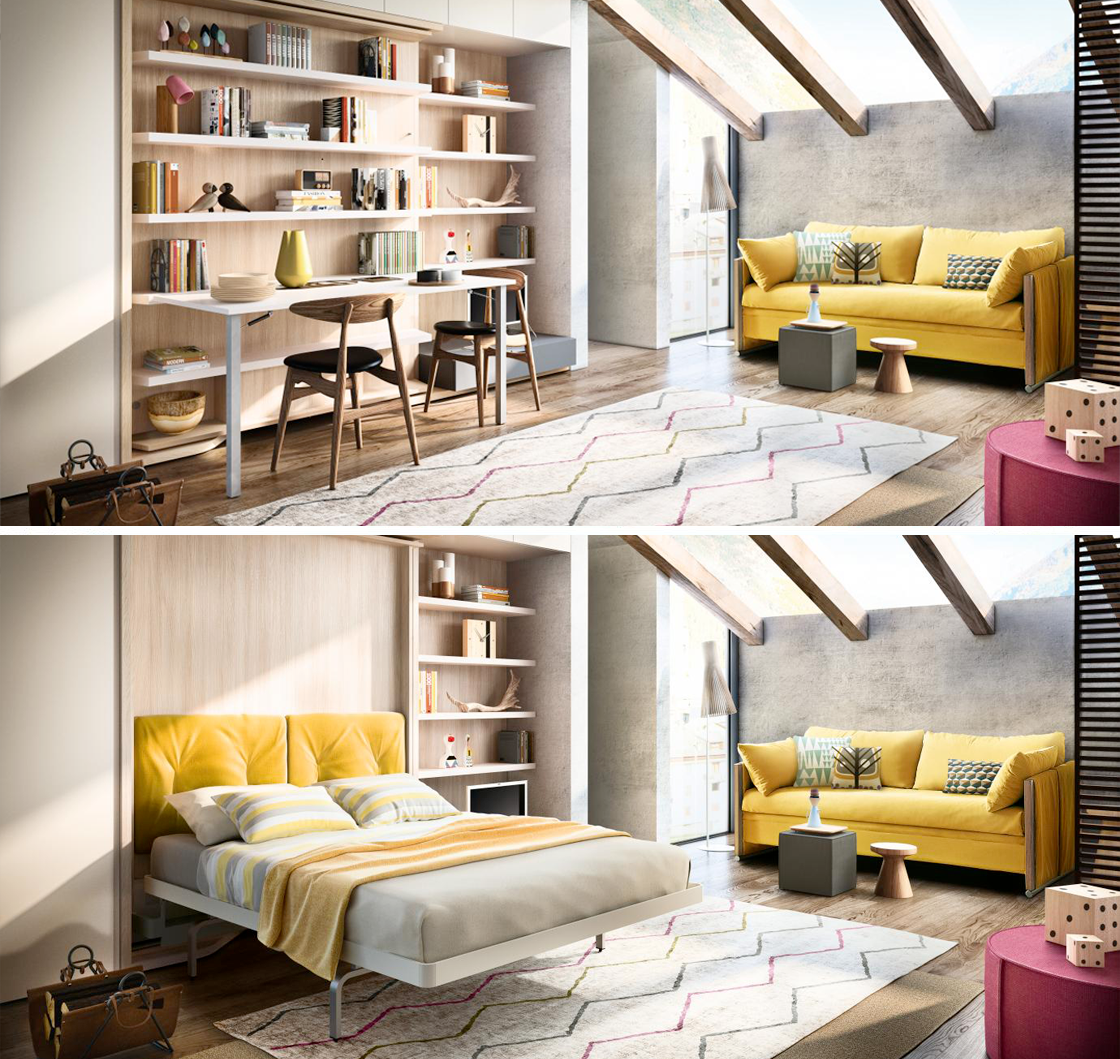 In our Space 19, set in an attic with hardwood exposed beams and large bright windows, the linear design of our solutions perfectly suit the space architecture, enhancing the presence of the exposed beams.
Also in the choice of finishes, we paid attention to the type of the space: light colored pieces of furniture bring light to the room and expand the entire space, the open bookcase oak sections give a warmer tone to the atmosphere, and the yellow fabrics make it lively and bright.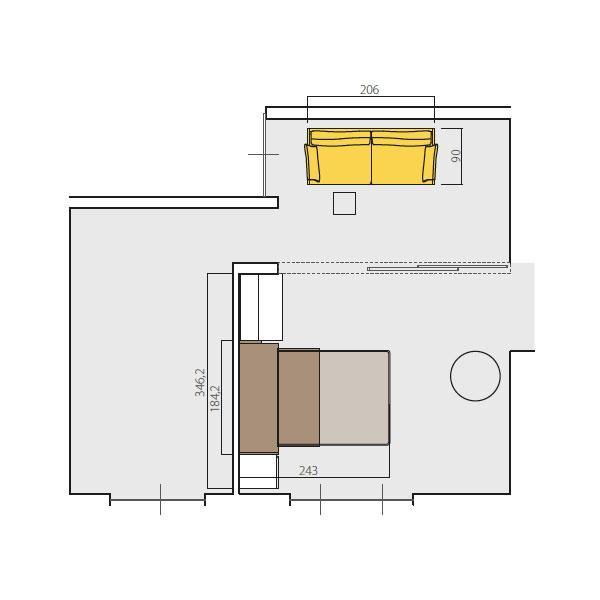 Clei solutions allow you to obtain, within one single space, a living area including a bookcase and a sofa, a dining area, and a sleeping area that can comfortably accommodate 4 people and is divided into two independent spaces due to the presence of the sliding panels.
How?
LGM01/TAV is a dual-function transforming furniture. A simple rotational movement transforms it from a wall bookcase including a lift-up table, into a ready-to-use double bed with practical extractable side tables.
DOC. is a sofa that transforms into a practical bunk bed through one simple movement. The sofa has a removable cover, white feather padding and cover in cotton cloth. In its bunk bed setting, Doc. features a ladder, a safety barrier system and a slatted bed base.
Ultimately, the key to increase the attractiveness of a small space with sloped ceilings – as many attics are – is to aim for a cozy and functional style, making the most of every available inch.