Solutions - 25 November 2019
Creating a home office: ideas for a functional furniture arrangement
Due to the rise of digital jobs and careers, an increasing number of people has the opportunity to work from home. However, smart working is more than just having a computer and a good internet connection.
Those who have already experienced this line of work are well aware of the importance of creating a comfortable and functional space that can boost your productivity even within the domestic space.
But is it really possible to create a study when there is no room specifically designed for this purpose? By using the right furnishing solutions, it certainly is. Here is our advice on how to design a home office to the highest standards within a living space.
How to design your home study
You might be wondering how to create an office area inside your own home.
The living room is typically the most suitable area of the house, being the most appropriate space to fit a multipurpose wall or double-function solutions.
Let's take as an example our Space 20, able to incorporate the sleeping area, the sofa and the home office within a single wall.
How?
Thanks to the combinations offered by Nuovoliolà 10, the trasforming system featuring a tilting double bed, sofa, bookshelf, and Home Office, a working station that only appears when needed. The desk grommet, LED lighting, and shelves for organizing documents and objects help ensure that every item stays in place.

Likewise, it is possible to create a study in your sleeping area or, alternatively, in a hallway or a transition area between two rooms, as laid out in our Space 12.
A key feature of this space is Penelope 2 Board, a transforming system combining a large writing desk, a bookcase and a tilting double bed. The pivot system allows the working table to remain horizontal during its opening and closing. This feature eliminates the need to remove the items from your desk.

What kind of furniture should you choose?
Regardless of the size, the design of the available space should be functional, but most importantly optimize your sitting position. To achieve this goal, the following three factors should be carefully considered:
Desk. Laptops are becoming increasingly more compact, and so is the space needed for their placement. A good alternative to the classic desk is a pull-out table, such as our App, fitted into a case element with closing flapping door, that can be opened and used during work sessions, and disappears when not needed.


In order to ensure a correct sitting position, a key factor to consider is the desk height from the floor, so that your back lies perpendicular to your thighs and your legs form a 90° angle.

Ergonomic chair. It is the highlight of every working station, especially for those who need to be seated several hours per day. If you choose a swivel chair, the best option is a 4 or 5 spoke base since it provides more stability. The chair should preferably be height-adjustable, so that the feet can touch the floor while the bent knees and elbows form a right angle.
The backrest has to be reclinable and possibly upholstered with expanded polyurethane, a material that can easily adapt to the shape of your back. Alternatively, should a traditional office chair not suit your space, you can still opt for a chair with a soft shell and a large base, and add a lumbar support and a footrest. Office stools equipped with device to adjust the height.
Shelves and drawers to store documents and objects. Boxes on wheels represent a smart solution, or alternatively, if available, you can take advantage of the portion of the wall vertically by adding bookcases, shelves, 25 cm deep are enough. In order to divide a bigger area to create a more private corner, the best solution is an open bookcase, which offers more usable space. In order to divide a bigger area to create a more private corner, the best solution is an open bookcase, which offers more usable space.
With the help of transforming furniture, these elements only take up a minimal amount of space, leaving plenty of room for the other purposes of the environment.
Ideas to make your working station comfortable
In addition to the furniture, there are other small but essential measures to further enhance the efficiency of your working station.
Do not overlook the importance of lighting: if your space has windows, try to use as much natural light as possible, positioning your desk so that the light beam hits the screen from the sides rather from in the back or the front. This arrangement contributes to reduce eyestrain and improves the energy balance of your space.
Nevertheless, a certain amount of artificial light is always needed. LED task lights represent the best option, featuring arms to direct the light cone and a dimmer to regulate its intensity.
Finally, ornamental plants. They help you focus, stimulate your mental balance and ensure a healthier air. A recent study suggests that workplaces filled with houseplants can increase productivity by 15%. Ficus and Sansevieria are amongst the most recommendable plants.
Now that you have a better idea on how to create your home office, all you can do is… start working!
Clei solutions allow you to fully enjoy your home spaces, even when they transform into working environments.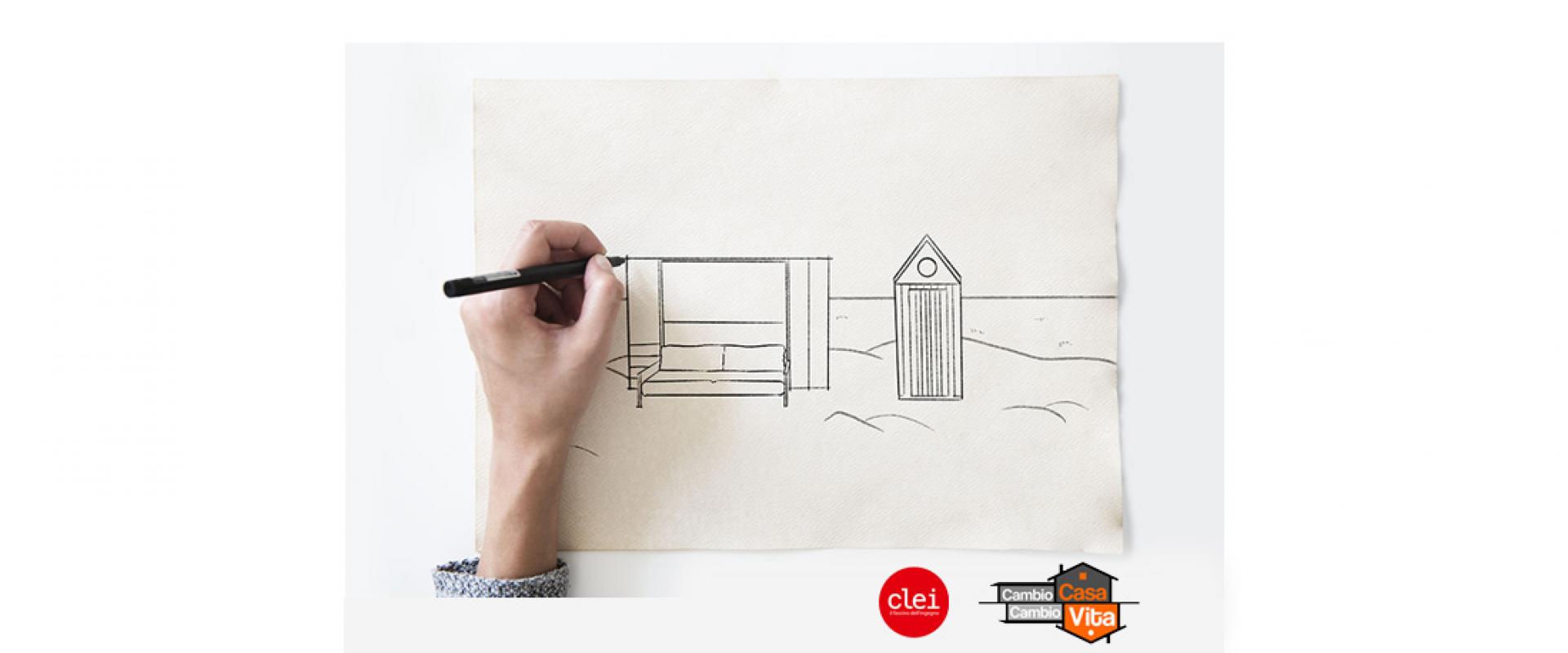 Andrea Castrignano chose Clei to win a challenge that seemed to be almost impossible.
Read more