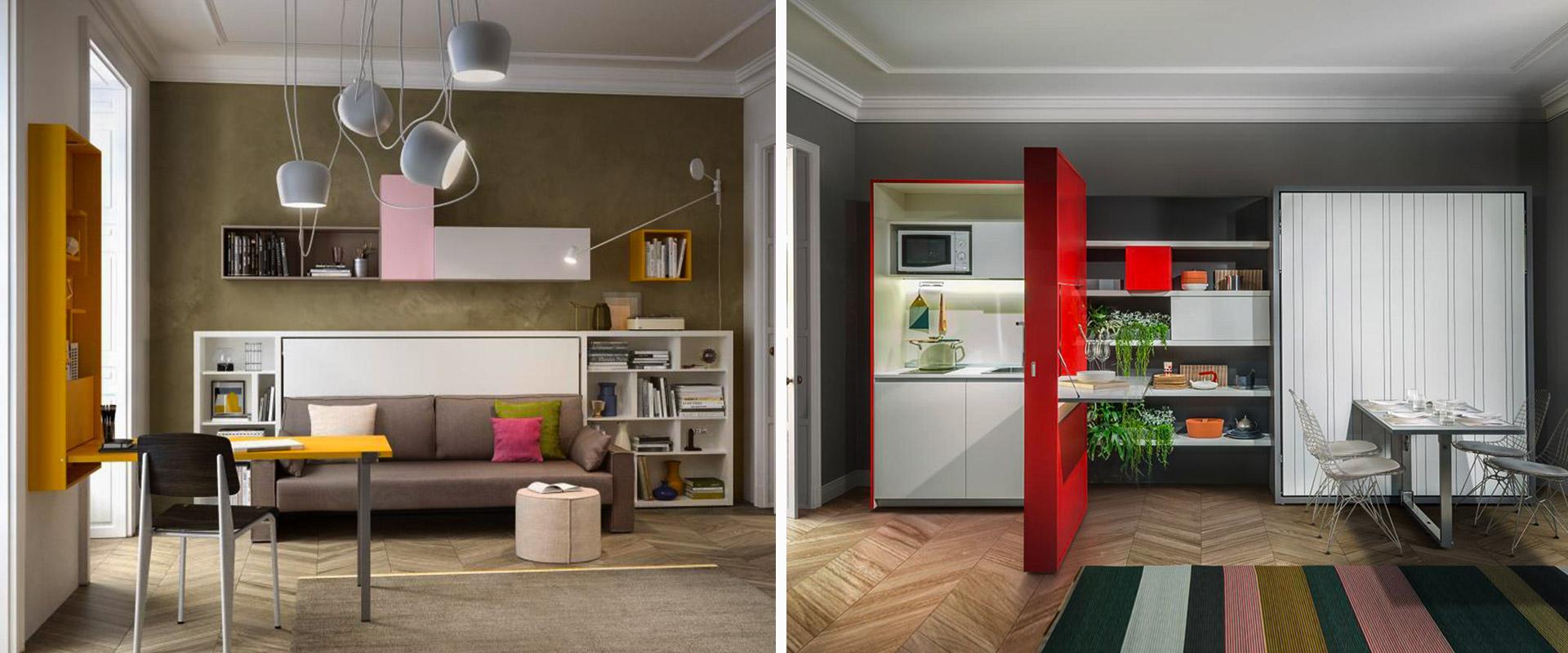 Smart working: how to functionally furnish a 45 sqm one-bedroom apartment
Mark and Lisa are a couple of young professionals. She is a graphic designer and he owns a small startup company.
They fell in love with a 45 sqm one-bedroom apartment in the heart of Milan, where they have been living and working for years. Being two freelancers often working from home, in furnishing the one-bedroom apartment, they faced the challenge of combining their living and working spaces.
Thanks to transforming and space-saving solutions, Mark and Lisa succeed in creating a functional, cozy and fully usable environment for each moment of the day. Let's find out how.
Living and working in 45 sqm
Sharing a small one-bedroom apartment for living and working poses a number of practical issues relating to the organization and management of the spaces. Lisa mainly works with her computer and frequently needs to meet her clients in a suitable environment. Even Mark, who relies on a co-working space during the week, often needs to work remotely. At the end of the day and during the weekend, Mark and Lisa engage in their passions, and love organizing evening get-togethers with friends or relatives. In order to do all of the above, they had to overcome a number of challenges arising from designing a 45 sqm one-bedroom apartment, such as:
how can you combine the functions of an apartment with the functions of an office, without compromising on comfort and privacy?
how can you arrange extra beds to accommodate friends and relatives?
when choosing the furniture, what is truly needed and what is unnecessary?
which key factors should be taken into account to create a bigger and brighter-looking environment?
The answer to these questions came through a thoughtful design of the space and the choice of transforming and multifunctional furniture, able to adapt to the couple's needs with a smart and original approach.
How to furnish a 45 sqm one-bedroom apartment: ideas and solutions
Small does not necessarily mean uncomfortable when adopting smart solutions to functionally organize the spaces, leaving aside preconceptions on rooms partitioning, in favor of a more modern home living concept.
A 360° home experience
To furnish a room of the one-bedroom apartment, Mark and Lisa opted for our Space 04. The project is developed within the space originally intended as the bedroom, across 14 sqm (the standard size of a double bedroom), and can dynamically change its layout according to the time of the day.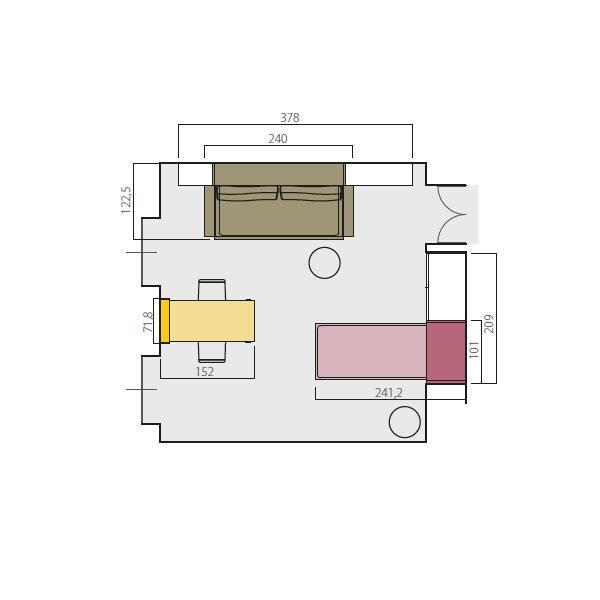 Space 04 Project
It is Lisa's favorite room, used daily to work, make conference calls and receive clients when needed. At the end of the day, however, it turns into her relaxing space, either alone or with company.
Her home office is called Wally: a worktop with tilting opening integrated to a case element hung on the wall with 4 adjustable shelves.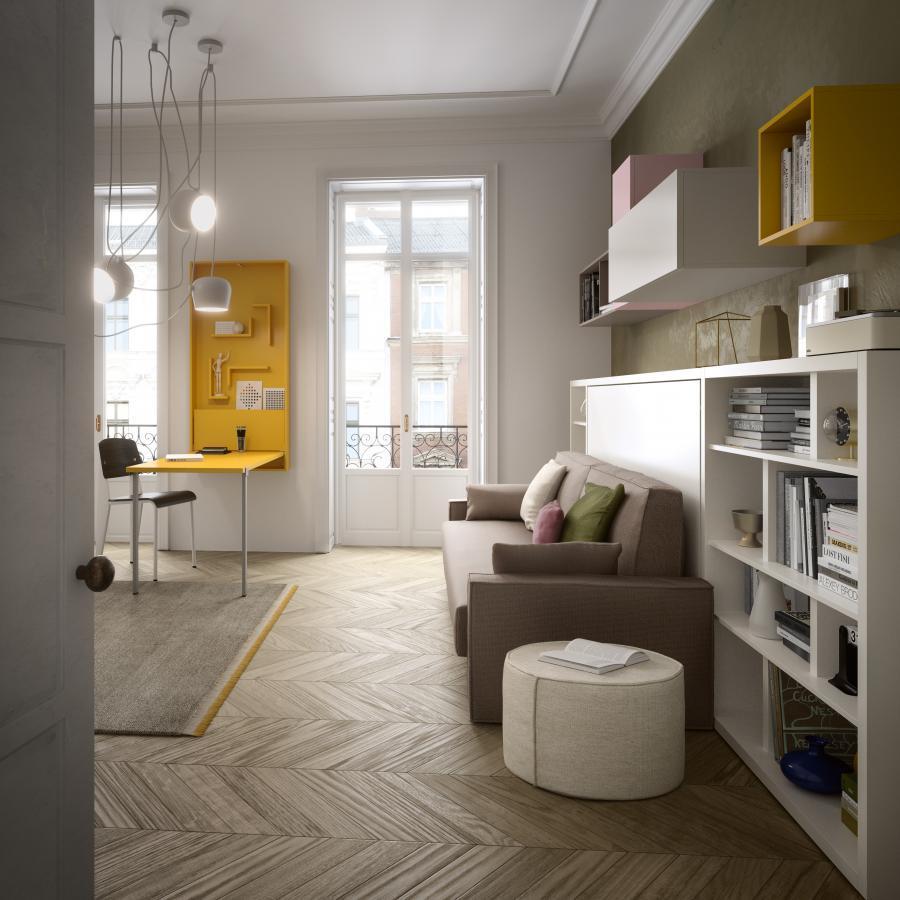 Space 04: Wally + Kali Sofa
After turning off the computer, Lisa makes her office disappear with a simple movement, leaving space for rolling out the mat, lighting a couple of candles and practicing Yoga.
The Space 04 is also ideal for those shared relaxing moments and for hosting friends and relatives. In the evening, Mark and Lisa can relax on Kali Sofa, the comfortable sofa integrated to a bookcase that hides a foldaway bed, an essential feature to accommodate guests.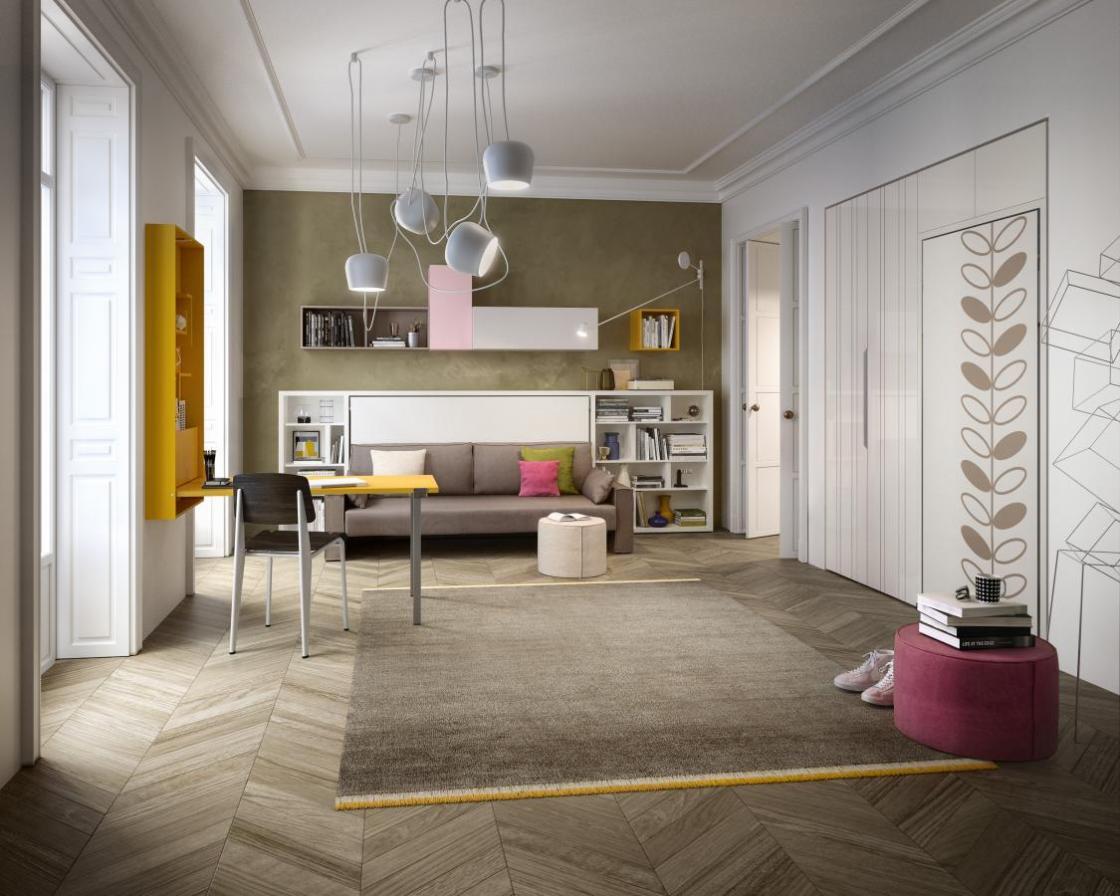 Space 04: Kali Sofa
A second foldaway bed is provided by Altea Standard, a transforming system integrated to a wide wardrobe, which addresses the need for space to store whatever is not needed on a daily basis. This is a useful solution for handling the seasonal change of clothes, as well as for storing ring binders and office supplies.
With Kali Sofa and Altea Standard, Lisa is thrilled to be able to host her parents for a few days during their visits. Without the cleverness of transforming furniture, it would be an almost impossible task in a 45 sqm one-bedroom apartment.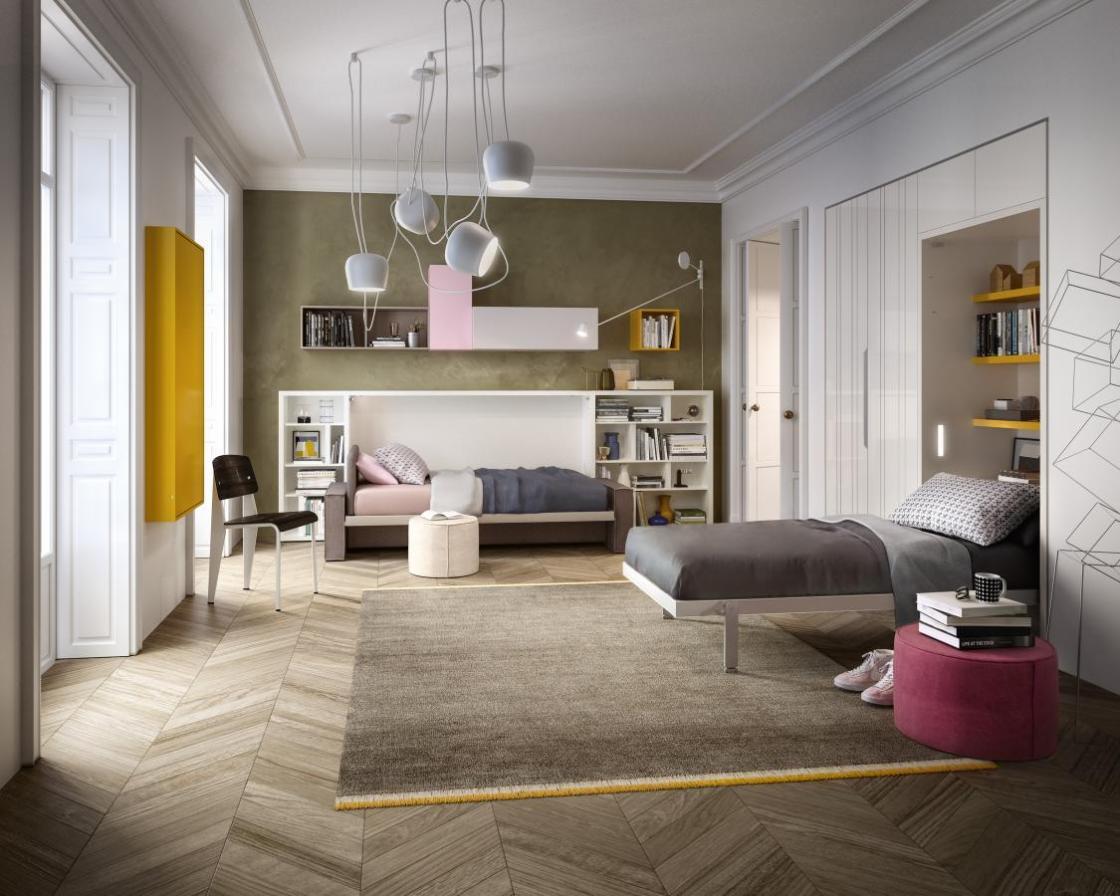 Space 04: Altea Standard + Kali Sofa
Kitchen and sleeping area
The second room of Mark and Lisa's one-bedroom apartment accommodates a kitchen, a dining room and a sleeping room, overcoming the traditional concept of domestic spaces partitioning.
This solution is achieved through our Space 11, a project developed over 18 sqm, in which we have arranged, along a 4,5 mt wall, a foldaway mini-kitchen able to double its size with a simple movement, a bookcase and a big table that, with just a few movements, gives way to a ready-to-use double bed.
In order to optimize the available square meters, they have arranged every element longitudinally to the walls, without occupying space in the middle of the room. This arrangement also maximizes the light diffusion, thereby enhancing the space perception.
The use of transforming furniture to design this room also allowed to obtain much more space than with traditional solutions.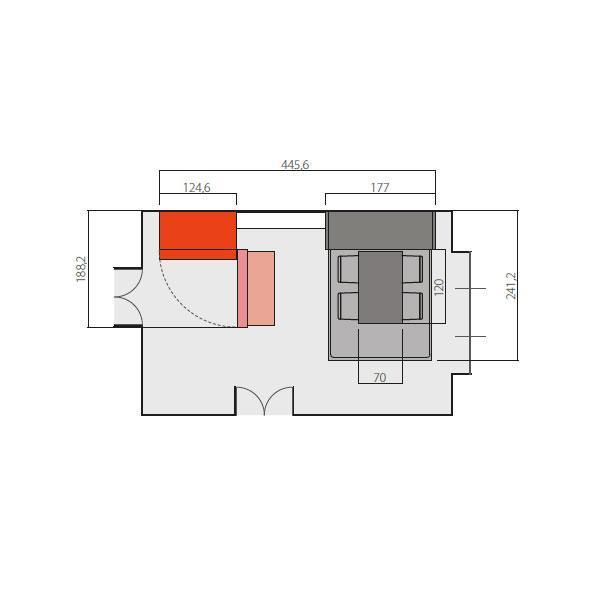 Space 11 Project
The project is comprised of Kitchen Box, a transforming mini-kitchen made by a fixed block and a fully equipped revolving door that doubles the work surface. When the kitchen corner is not needed, the door, equipped with an automatic safety system that deactivates the hob and oven, can simply be shut. From its closed state, the block can turn into a piece of furniture that can be personalized using Clei's color range.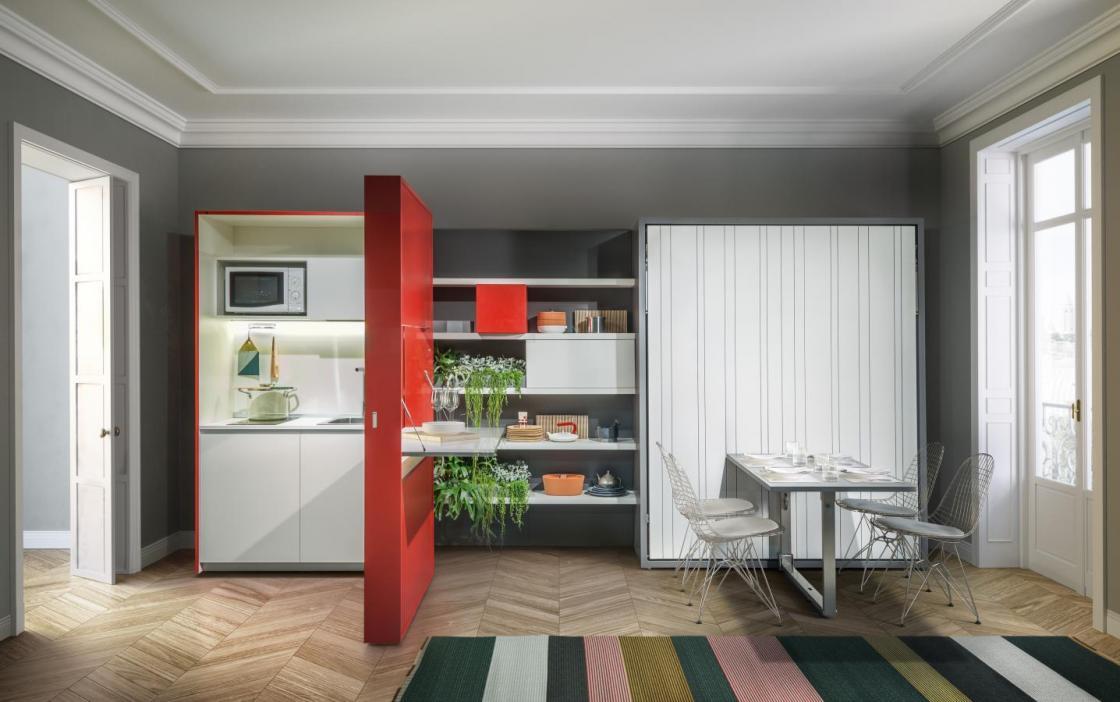 Space 11: Kitchen Box
A bookcase matching the two transforming blocks has been placed between the kitchen and the sleeping area to create the right degree of separation. This creates the perception of a single harmonious element, although its functions are spatially defined.
The project is completed by another transforming system, Penelope 2 Dining: a system with a double foldaway bed, integrated to a wide dining table that can easily be opened and closed.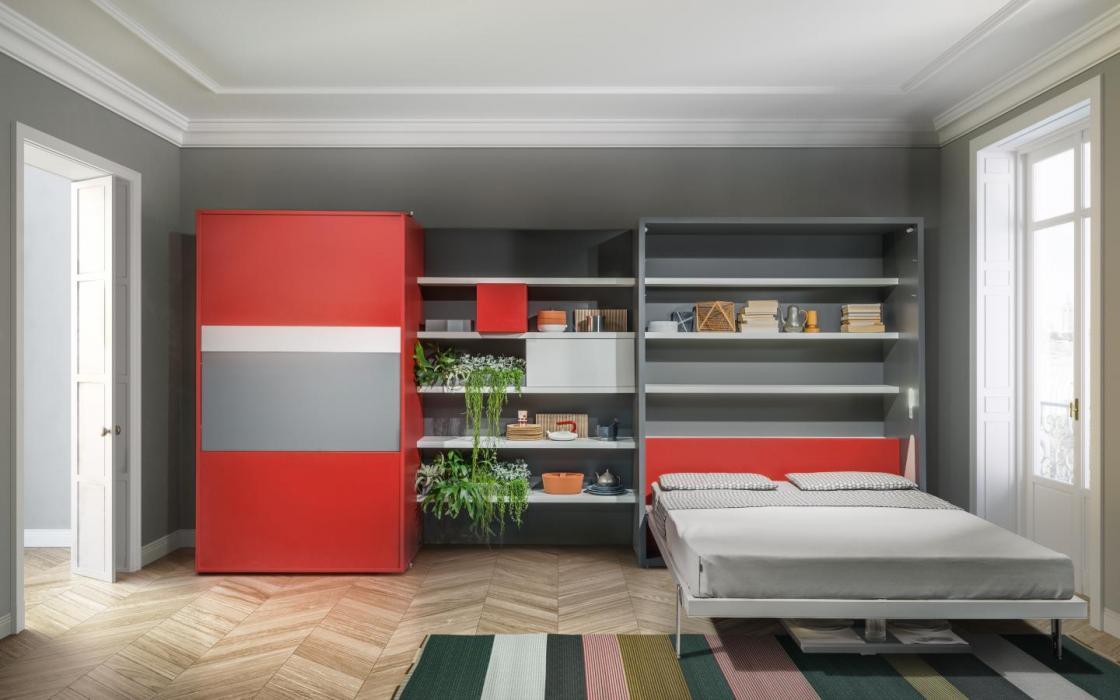 Space 11: Penelope 2 Dining
Through this solution, it was possible to obtain a second independent worktop used by Mark when working from home, thus avoiding any interference with Lisa's activities in the other room. The tilting table is able to adapt to the couple's needs, creating a second dynamic home office, saving precious centimeters within the apartment and only taking up space when needed.
Clei's rational layouts and essential design allow different functions to co-exist with style and convenience within the same environment, adapting to the ever-changing needs of an increasingly dynamic and evolving society.