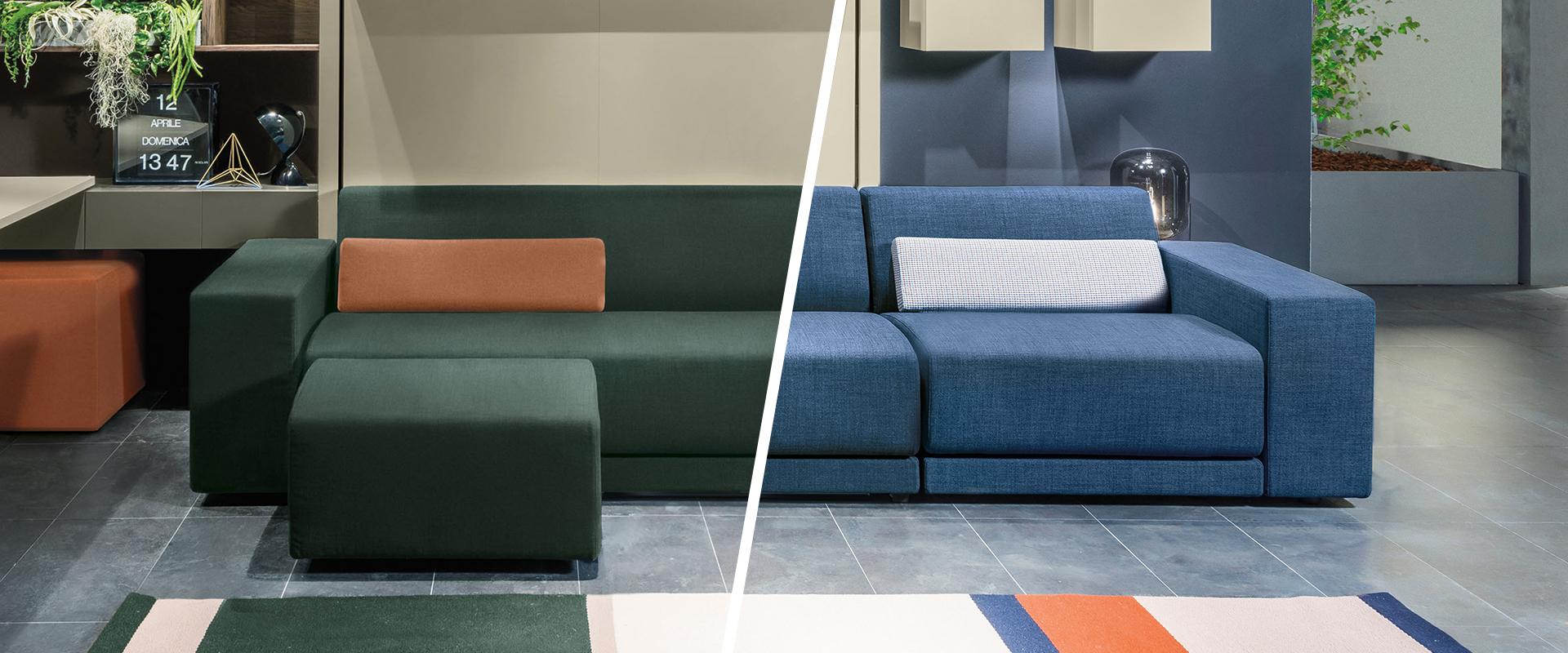 Solutions - 27 September 2019
How does one choose a sofa color? Ideas for creating the right match
The sofa is undoubtedly one of the most important and functional home furnishings.
It is inviting during evenings among company and soothing during days of solitude spent among TV, books, and herbal teas. The sofa is even great for taking a nap.
Its comfort is, therefore, essential. However, its aesthetic harmony with the surroundings is key.
Choosing one color over another is a declaration of personality and style that can make your living space special and intimate.
The color choice is not so obvious. Here are some practical tips for choosing the best color.
Select a color based on the sofa's purpose
When deciding your color, first ask yourself: how will my sofa be used? Will children or animals use it? Will it be in an everyday setting or a room dedicated for guests? Are you looking for something practical and versatile? Will it also be used for work? These questions already present the first step in guiding your color choice.
For example, if you have children taking over the sofa as a playground, then it might be more appropriate to opt for darker shades, like gray. Darker colors will diminish the visibility of any stains. For pets, the situation is similar. In this case, consider choosing a color that resembles your pet's hair.
Choose a neutral color for sofas that will get a lot of use, so that they do not wear out quickly. Opt for a light color if the sofa is more likely to be used for moments of relaxation. Restful colors include beige or pale green.
Consider the furniture's contextual style
Another variable to consider when selecting a color involves the context in which the sofa will be placed.
You might take a leap with bright colors if you have a large living room. Do avoid overly dark tones if the room is small as this makes it look smaller.
Opt for a light shade if you have dark furniture. Play with cushions that reflect the nuance of the pieces or enliven your environment. Pair a rug of the same color or even the same texture as the sofa for a seamless touch. These modifications will offer your living room a sense of continuity between the furnishings and a feeling of spaciousness.
To get an idea, our Space 03 with Tango componibile is a foldaway sleeper sofa in which the fabric incorporates both the marble of the wall and the color and texture of the rug. On the other hand, graphic patterns have been chosen to enliven the environment with pleasant color points.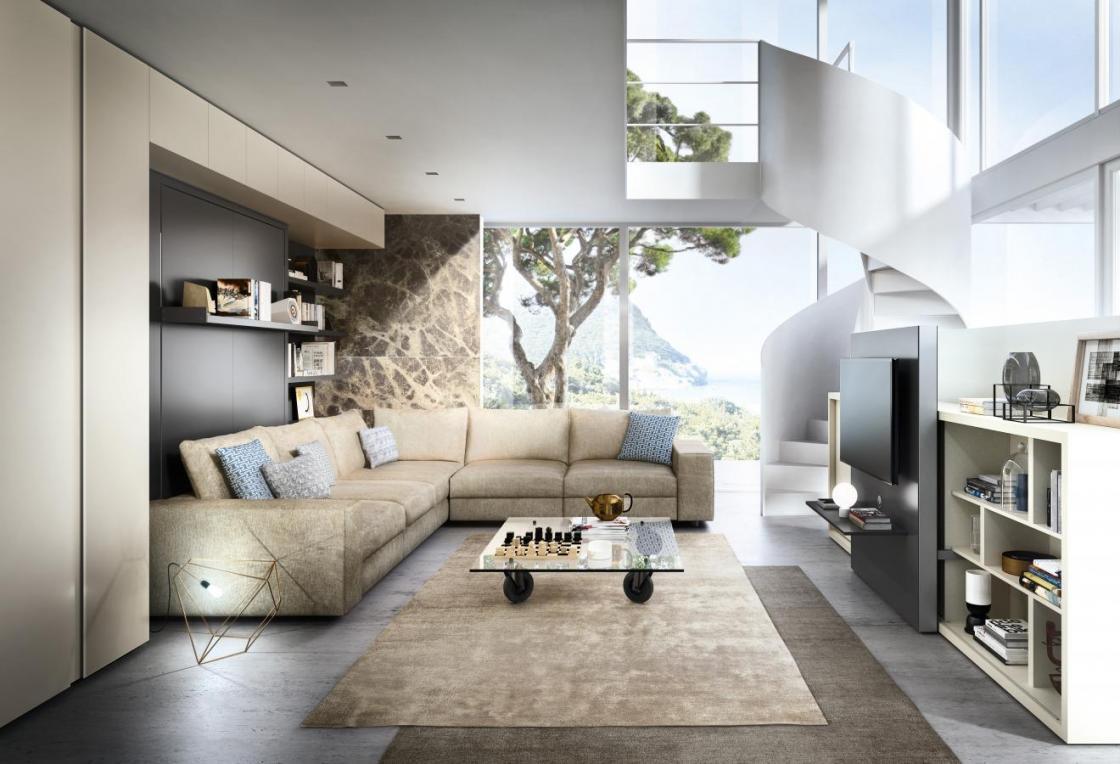 The style of already existing furniture is another element to take into account.
Generally speaking, the most suitable colors are white, black, and gray when it comes to minimalist and modern furniture design. Yet, as we know, this also depends upon the furniture's color.
Always follow the logic of contrasts: if the furnishings are light alongside dark walls and you want to get a more decisive and personalized atmosphere, then it is better to opt for a dark-toned sofa. Better yet—the sofa's color perfectly recalls that of the walls and accessories, such as rugs and pictures, lamps, and decorations.
The character of your living room can transform by pairing the walls and the sofa color without changing the furniture. Our Space 06 offers one example in two colors.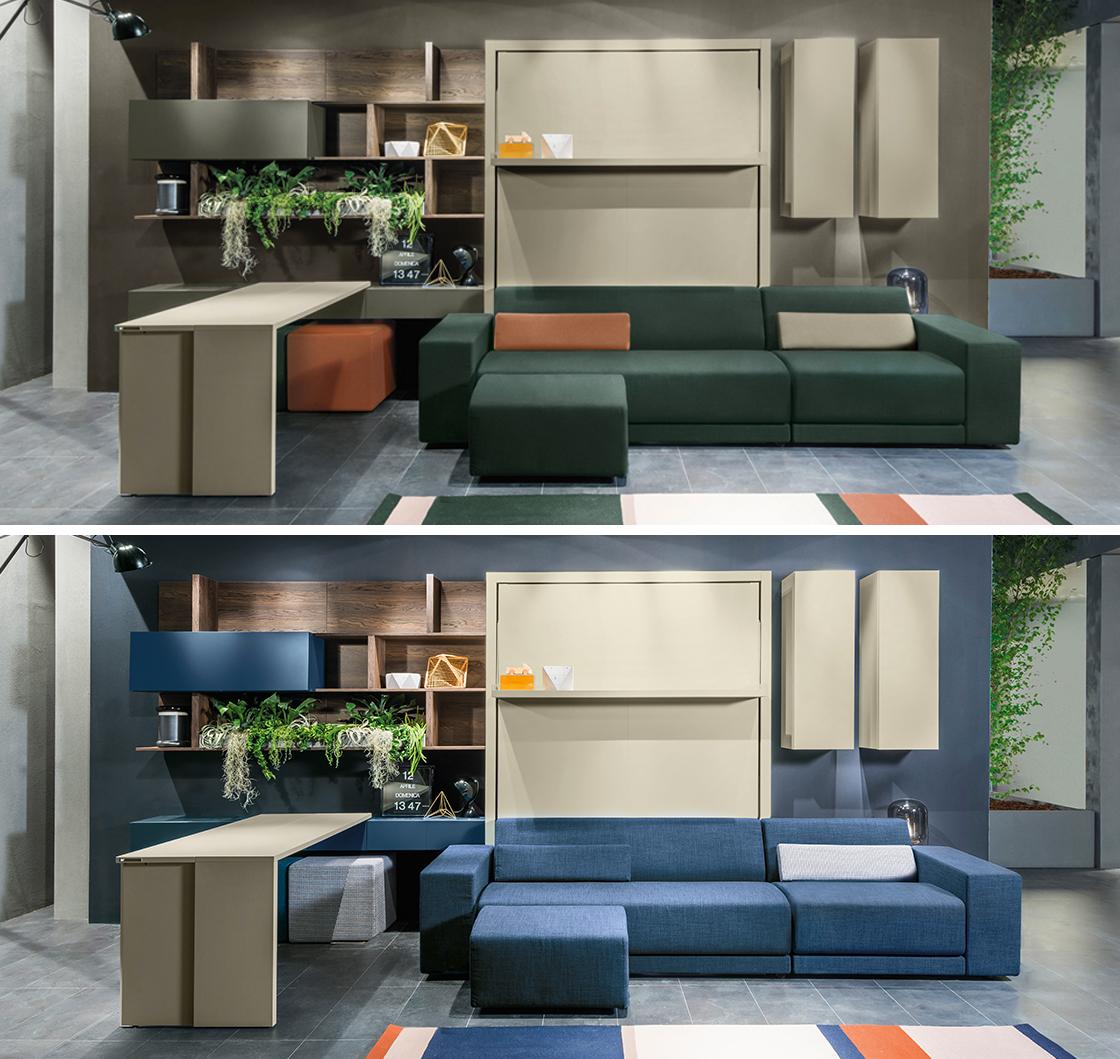 The above images show how color can influence the environment's style.
The green velvet Oslo sofa is perfect for creating a pleasant, classic atmosphere intensified by warm-colored accessories, such as earthy nuances.
Alternatively, blue textile creates a more casual environment. This is perfect for a young couple, for example. Careful, however, as dark blue tends to shrink spaces.
For non-minimal looks, like rustic or country, warm ocher and copper-red can be combined with florals, stripes or plaids. The shabby chic palette is composed of only soft tones, such as cream, dewy gray, and all shades of beige. If hints of orange are present, then a sofa in shades of blue is the right match. Bright yellow accents go perfectly with a gray sofa.
The role of lighting
Lighting type and its positioning are among the elements requiring careful attention when selecting a sofa.
If the sofa is placed in direct sunlight within the home, then a practical solution is to choose a neutral color, like beige, gray, or dove gray, to avoid fading.
Maybe you will take a risk in a luminous and spacious environment with an eccentric color, like bright red. Such a move does not take light away from the room nor suffocate its environment. In fact, it will be the most powerful element of your living room.
If you want to maximize limited light that enters, then forget dark colors. Focus on a ton sur ton effect with light furnishings for a brighter and more spacious living room. At a glance, this will emit a greater feeling of brightness given by the small amount of light that can reflect off other surfaces.
Which color for which fabric
The final rendering and visual impact of a living room sofa owe much to the choice of color while also depending upon the type of fabric and their combination.
Various factors affect the choice of fabrics, including ease of maintenance, resistance, and how it blends with the furniture's style.
For child or pet resistant sofas, washable and highly durable fabrics are optimal. For a more sophisticated and refined effect, natural fabrics like linen, cotton, and viscose are definitely better yet quite delicate. If you do not want to give up natural fabrics but the idea of having to cover the sofa to protect it does not win you over, then one solution might be to choose fantasy prints over a single color. This way, any small spots will be less visible.
Geometric patterns or a black and white pied-de-poule texture of linen or cotton will certainly give a vintage touch. Alternating between double cotton fabrics with bright shades like royal fuchsia, tonal reds, and Persian green offers an ethnic definition. Rather, if you are going for a classic look, then nothing beats white cotton. Do know, however, that maintaining it will be a challenge. For an industrial style sofa, camel-colored leather (or faux-leather) is the most canonical combination.
Whatever you imagine for a sofa, Clei offers you full freedom of choice. Dozens of color, material, and fabric combinations are available to personalize your living space to fit your style.