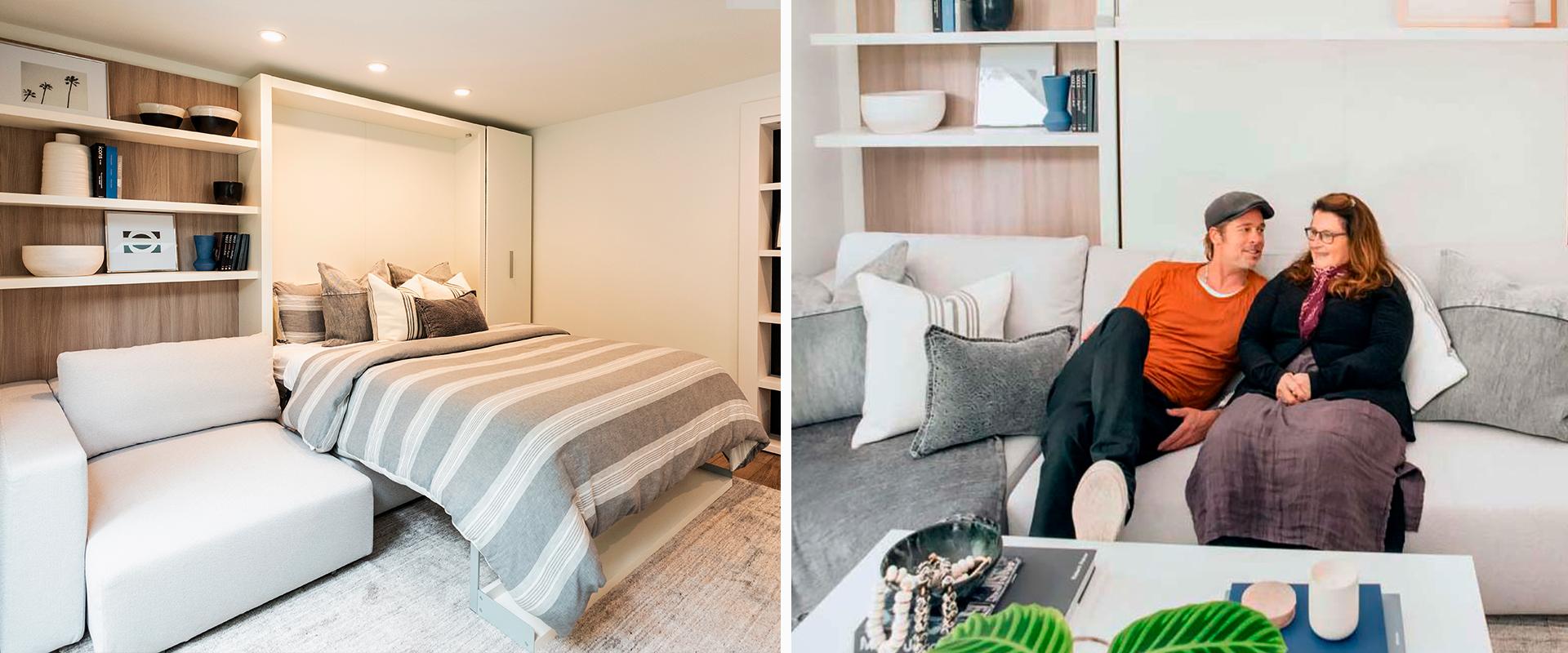 Clei on Celebrity I.O.U.: an Oscar-worthy project
The Property Brothers, Jonathan and Drew Scott, possibly the most famous real estate agents on TV, were faced with a new incredible challenge: turning a tiny garage into an elegant and multi-functional guest house for one of the world's greatest movie stars.
The use of Clei transforming furniture, able to multiply the space in a clever and elegant way, helped them complete this task.
Clei stars in Celebrity I.O.U.
For over nine years, the Scott brothers' shows have been broadcast worldwide in different languages, and they are best known in Italy for "Property Brothers", the TV show that deals with real estate and renovation projects.
Thanks to our American partner Resource Furniture, a market-oriented company, specialized in home and contract projects with transforming systems, Clei co-starred in the premiere episode of the Scott brothers' latest show, Celebrity I.O.U., broadcast on the Canadian network Hgtv, soon to be aired on Italian television.
The show features home renovations on behalf of important celebrities as a gesture of appreciation towards people that play an important role in their lives.
But what happens when the Scott twins are called into action by no less than Brad Pitt, Hollywood's brightest star? Yes, you read it right, that Brad Pitt.
This is the how of one of the most original collaborations to ever appear on the television screen has become an Oscar-worthy project! The presence of Clei multi-functional design and surprising furniture solutions further enhances the uniqueness of this project.
From a garage to a multi-functional guest house in just 37 sqm
In the debut episode, Jonathan and Drew help Brad Pitt transform a detached and underutilized garage into a magnificent guest house, for his makeup artist and friend for over 30 years, Jean Ann Black (considered by GQ magazine to be Brad's "secret weapon").
Jean's garage in Santa Monica, California, has an area of just 37 sqm, a space far too small to accommodate all the items on Brad's wishlist: a full kitchen, living area, sleeping area for guests, bathroom, professional makeup station, and extra storage space to keep Jean's bulky "tools of the trade".
A task «with an extraordinary potential and yet incredibly demanding», as Brad pointed out. However, the Scott twins have an ace up their sleeves: transforming and multi-functional furniture.
Drew and Jonathan already know about the impact of Clei solutions in transforming very small spaces into elegant multi-functional environments. Several years ago, Drew himself decided to furnish the small and narrow attic of his home in California with our revolving model LGM, a bookshelf that turns into a double bed, able to create a private study and a guest room in just a few square meters.
Having a firsthand experience of the advantages of designing small spaces with Clei solutions, the Scott brothers have no doubts: the versatility of Clei transforming furniture is what it takes to cross out the items on Brad's wishlist!
Swing, the multi-functional solution for the living and sleeping areas
In the second part of the episode, when the structural works of the annex are almost completed, we see Jonathan and Drew wandering around the Los Angeles showroom of our American supplier. The two siblings are looking for a furnishing solution able to fit a comfortable living and sleeping area in a small space.
They are particularly impressed by Swing, a transforming system by Clei featuring a foldaway double bed and a sofa integrated with an equipped storage and a bookshelf. By pulling the pivoting shelf, a ready-to-use double bed instantly appears, turning the living area into a sleeping area for the guests.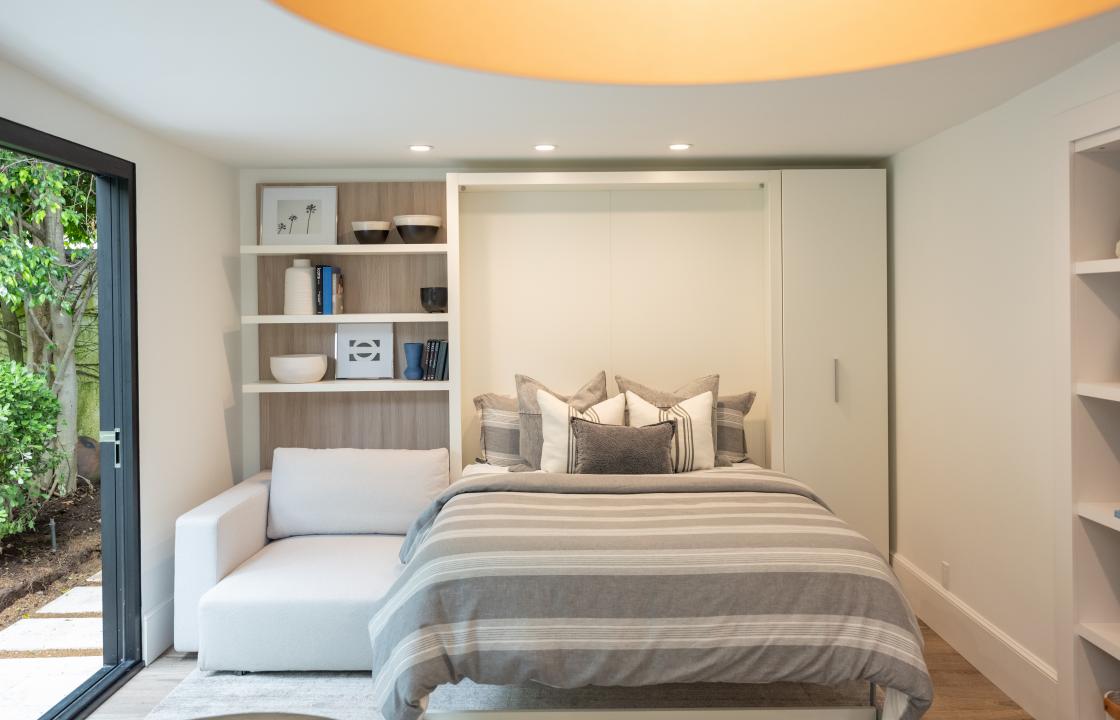 Swing
A wide and useful storage space is hidden under the sofa seat, further multiplying the available surface to store pillows and linen. The sofa version chosen by the Scott brothers also features a retractable chaise longue, to add extra comfort to the relaxation area.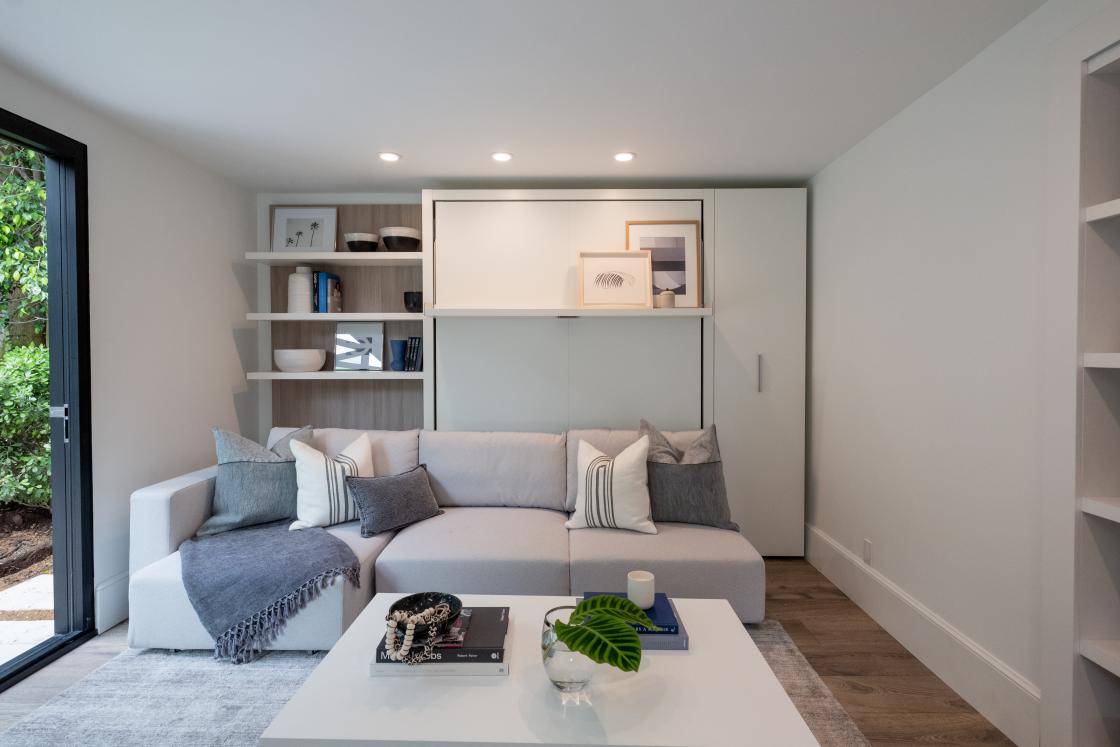 Swing
The solutions chosen by the Scotts impress both the magnetic Brad Pitt and Jean Black when, by the end of the episode, in between emotions and awe, the final result is unveiled. The old 37 sqm garage has given way to a luxurious guest house where, thanks to the Swing multi-functional system, Jane can now easily accommodate her guests without compromising on comfort in the relaxation area.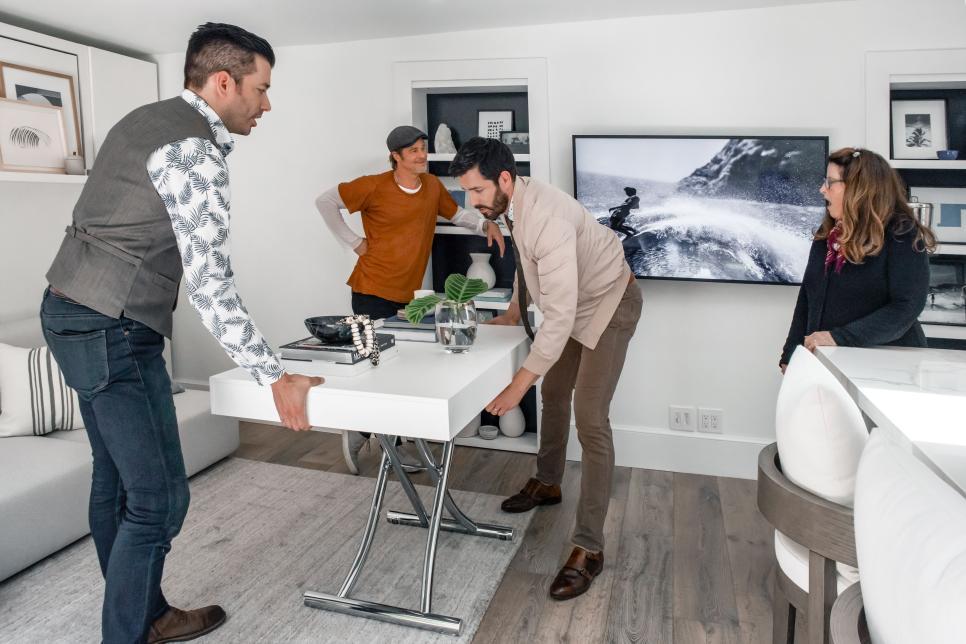 Among genuine smiles and unscripted jokes, we are deeply moved by Brad Pitt and his friend showing their sincere friendship – a unique and authentic moment that we rarely get to witness from a big screen celebrity.
If this project has inspired you, and you wish to fully exploit the space in your home, choose Clei transformable solutions!