Since 1963, #TheCharmeOfIntelligence
Clei was the first company since 1963 to explore these ideas, designing over time countless models of transforming systems, able to take different configurations for different purposes. A history made up of challenges, experimentation, research and patenting; a path characterized by creative, design and technological innovation.
With this distinctive identity, Clei has always moved up the expectations and respond to the new requirements and life styles. More and more, people live home 24 hours a day and they have understood the importance to designing and sharing dynamic and flexible domestic spaces, with furniture that changes functions according to the time of the day. From smart working, to distance learning, to the space to cultivate one's hobbies, Clei has confirmed and developed the project of the smart house that can be adapted to all surfaces.
CLEI @SUPERSALONE
Clei presents a multifunctional modular wall with sofa Tonale 281 Power integrated to the transforming system with foldaway double bed with automated opening and Wally Office, storing element with integrated table and equipped with inner metal shelves and bookcase element. Versatile and multifunctional furnishing systems that combine design, sustainability and technologies, able to multiply the value of space.

Tonale 281 POWER
Tonale 281 Power is a dual function transforming system, with pivoting sofa and translational movement, integrated to the system with foldaway vertical double bed with patented bed base CF09 and automated opening.

Dimensions: Plain System with closed bed + Sofa
cm L 281,2 x P 127 x H 220
—
System with open bed
cm L 281,2 x P 213,9 x H 220
Motorizzazione Power
Power Motorization
The automated tilting movement for opening and closing of the bed base by buttons is fully recessed in the side panel of the wall unit thanks to a patented technology. Available for selling from January 2022.

The main innovative features of Tonale Power system are:
 Automated Opening and Closing "Single Push"
 Opening and closing in only 15 seconds
 Safety system for obstacle detection during opening and closing by acoustic signal
 Manual opening in case of lack of electricity
Wally office
During the last two years the need to optimize the space of its own domestic environment has become even stronger, by integrating intelligent and flexible solutions for the Smart Working, able to combine several functions.
All these features are summarized in Wally Office: a storing element available in different versions in depths 15 cm and 25 cm, equipped as a workstation, with integrated table/desk with tilting opening. By a simple movement, the metal legs placed along the side of the table top get released and they self-lock in the operating position.
It is equipped with 2 internal shelves with sheet metal side to store your devices, available with upper and lower LED lighting. The lower flap door hides a technical compartment that is designed to connect the cables of the devices to sockets. The transforming system can have a beside bookcase element with lateral compartments, to make the workstation even more functional.
Dimensions:
Wally Office + Bookcase Closed
cm L 105,4 x P 15 x H 153,5/213,5 (from floor)
—
Wally Office + Boockcase /Open (total)
cm L 105,4 x P 152 x H 153,5/213,5 (from floor)
Table
cm L 67,4 x P 140 x H 74
Alternative products
More folding double sofa-bed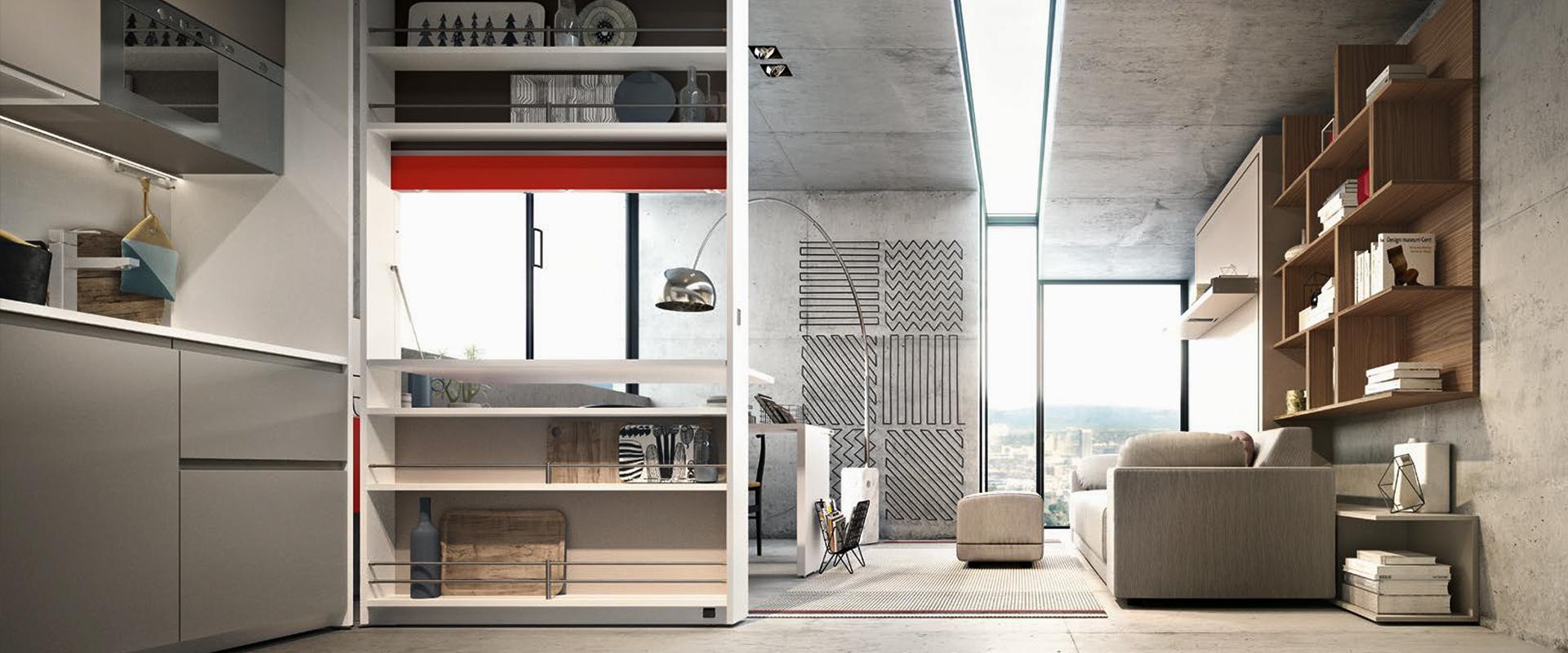 Solutions - 28 September 2021
There are multiple reasons behind choosing to live in a 30 sqm studio and, often, they are not related to financial aspects.
Read more