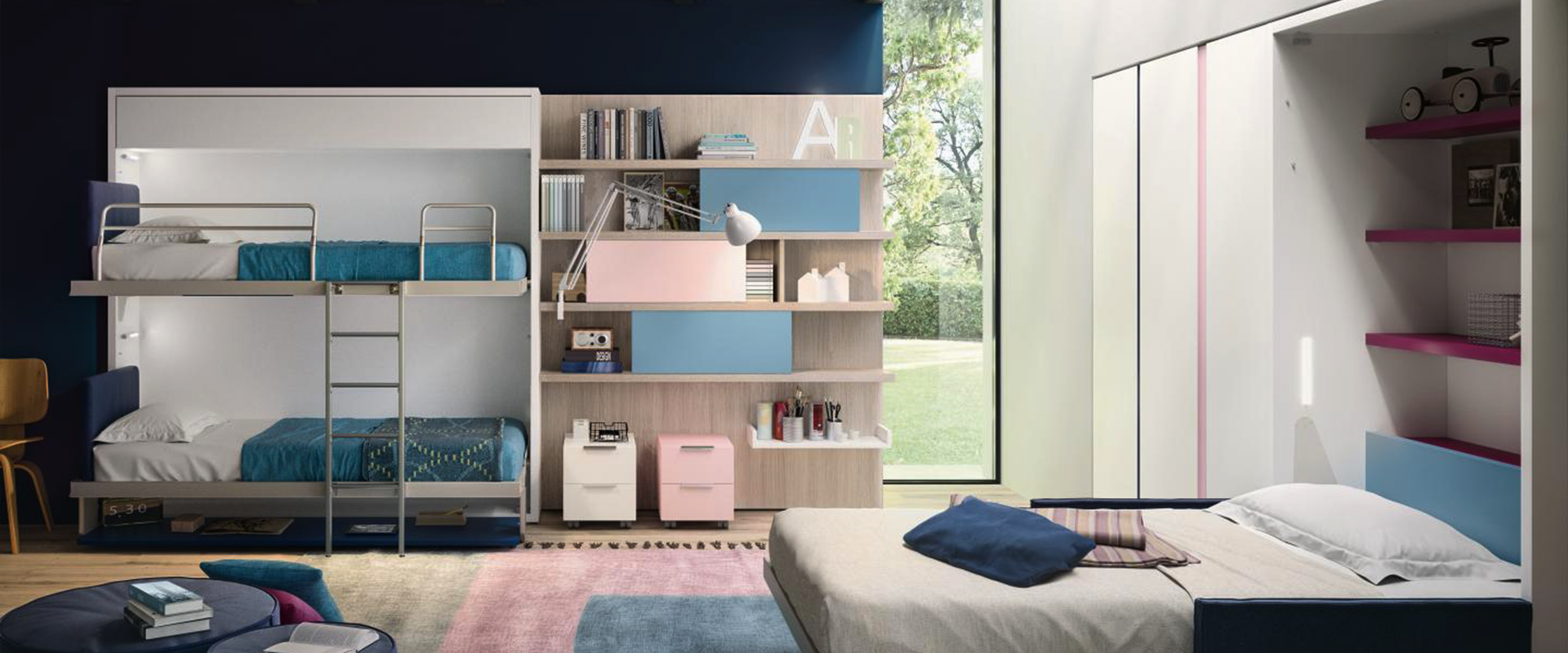 Solutions - 18 March 2020
Ideas for furnishing a bedroom for 3 children
Designing a bedroom for 3 children can be challenging, particularly if the available space is not too generous.
With the right tips, however, even a smaller space can accommodate everything you need in a comfortable and functional way, without compromising on the relaxation and play areas.
How to arrange the beds in a bedroom for 3 children
The arrangement of three beds requires a careful design that takes into account the bedroom's dimensions and shape. When positioning three beds on the floor is not an option, it is necessary to optimize the available square meters with more versatile solutions such as bunk beds, foldaway beds and beds with bridge wardrobe.
If your goal is to gain space, we recommend exploiting the height with transforming furniture and foldaway beds. In this way, you will save enough space to allow your children to move freely around the room.
These kinds of choices are well represented by our Space 05 Young, comprised of Kali Duo Board, the transforming foldaway bunk beds system with tilting desk. A practical and safe solution thanks to the mechanism that prevents accidental opening and closing, to the protection barriers and to the ladder fixed to both beds, which provides additional support to the entire structure.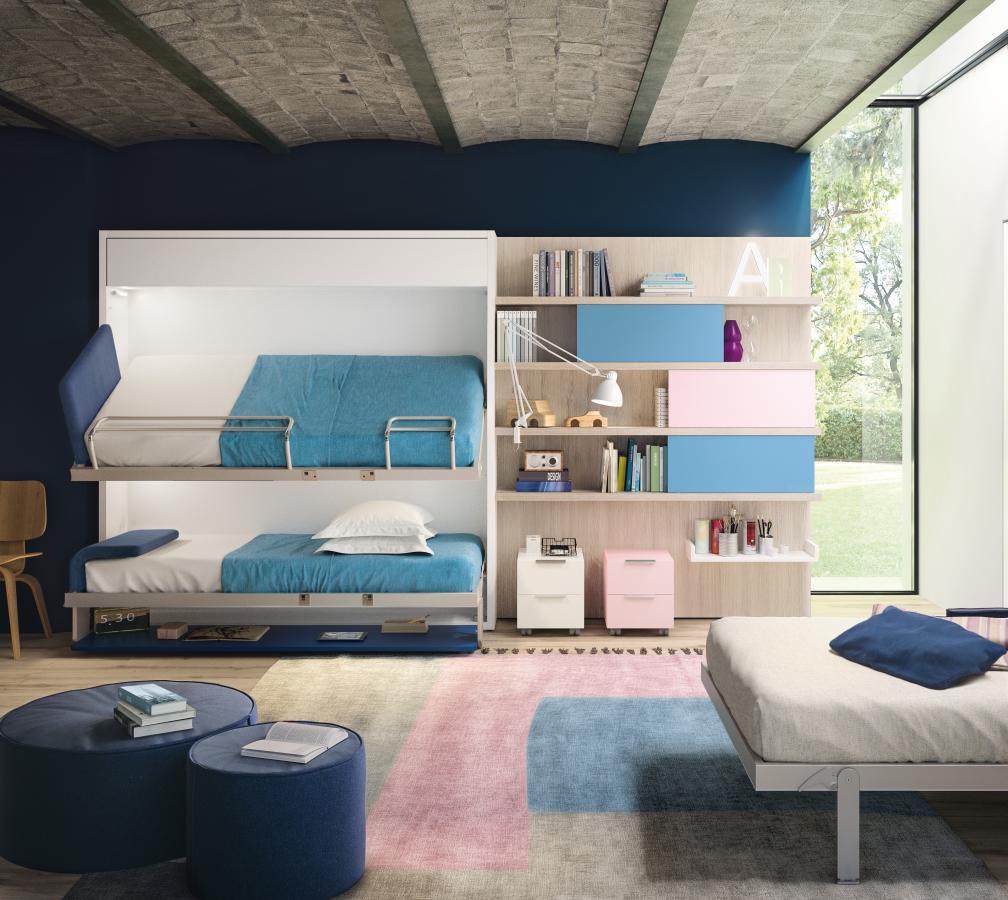 Space 05 Young: Kali Duo Board
The third bed of Space 05 Young is assigned to Altea Sofa system: a wall element comprising a foldaway bed, a comfortable sofa and a generous bookcase.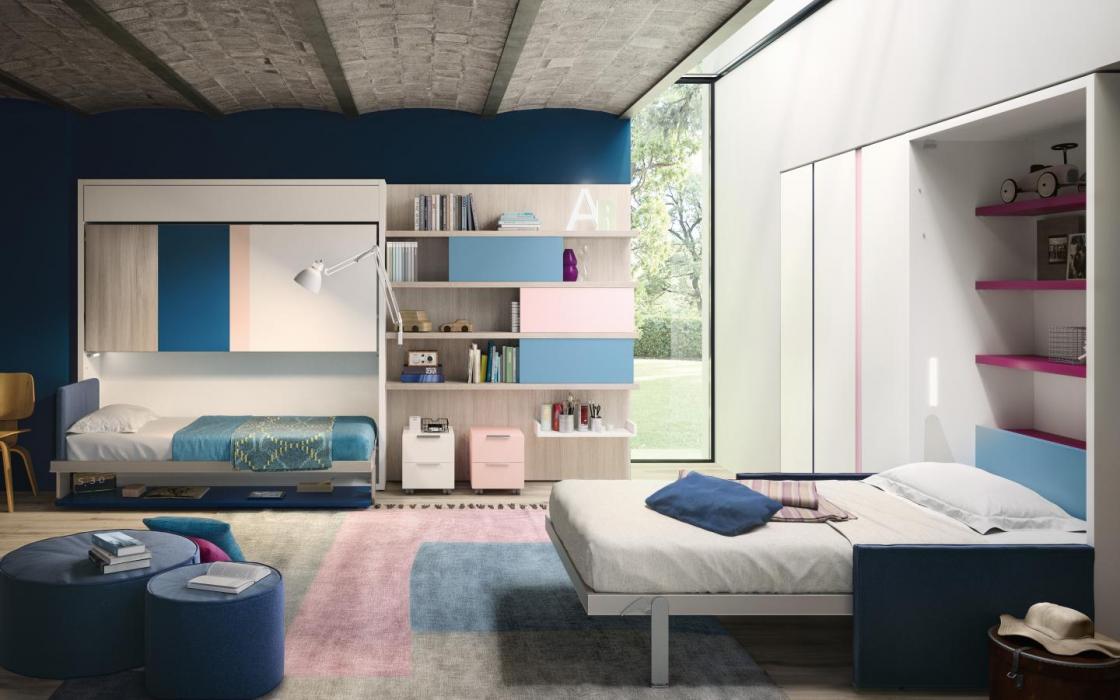 Space 05 Young: Altea Book
By using this transforming combination, the beds occupy space only when needed, leaving room for playing or studying throughout the day.
Organizing the space: child-friendly creative solutions
In a bedroom for three children, besides the beds arrangement, it is fundamental to create the space needed to organize books, toys, clothes… multiplied by three. Here is some advice on how to do it while keeping a neat and functional room.
When choosing the furniture, it is better to avoid open modules and systems, unless your children are incredibly tidy. On one side, the lack of doors and flaps makes the room more open and airy, but, on the other side, everything inside the furniture becomes visible, creating an effect of untidiness, particularly in smaller rooms. Closed storage units are preferred options. You can include a number of independent, movable modules, such as bedside tables on wheels, both to allow an easier access to their contents and to add a touch of dynamism to your room.
Take advantage of the room's asymmetries and corners that cannot be furnished with standard pieces of furniture due to their particular shapes. For example, you could obtain more drawers or shelves by using custom furniture, in order to optimize "blind corners", slanted walls and under window spaces.
At the same time, try to fully exploit empty walls by installing suspended wall units, shelves and racks to store books and toys.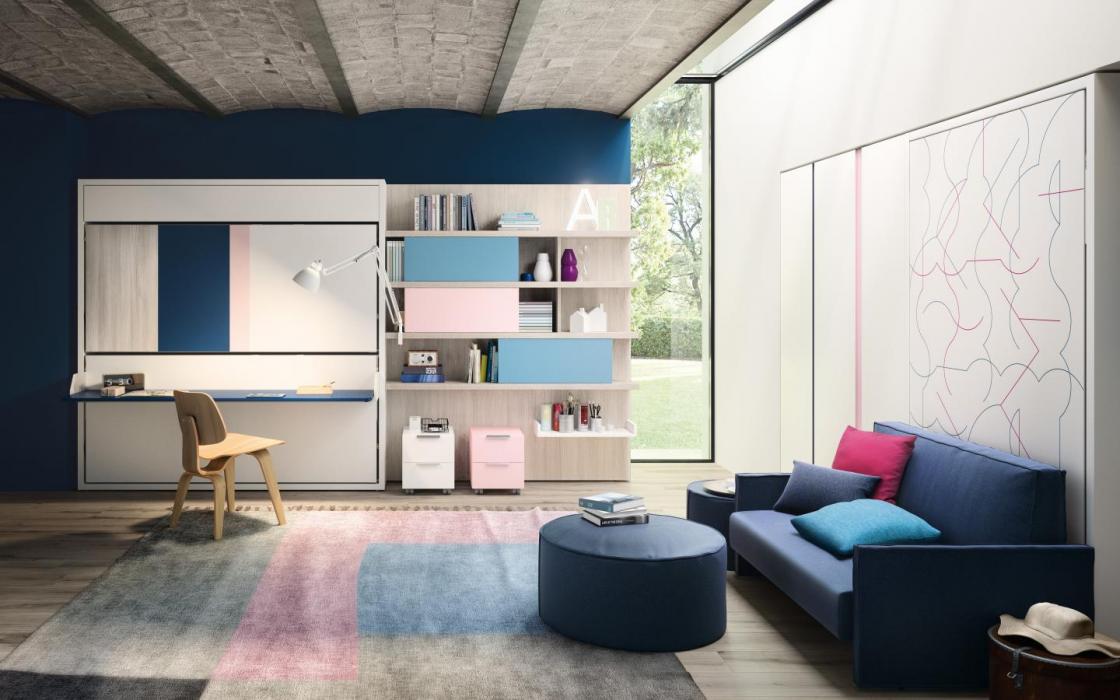 Space 05 Young: Tetris + Living&Young System
With Clei transforming solutions, every centimeter is worth double, or even triple!